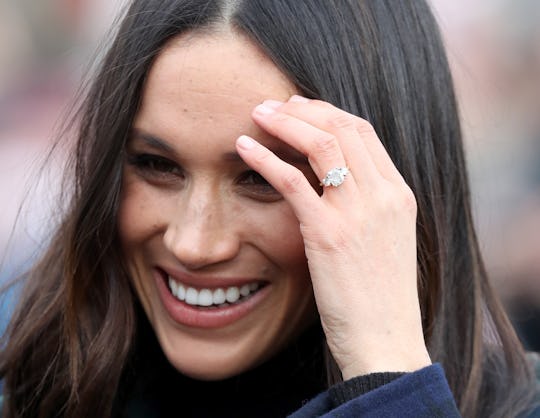 Chris Jackson/Getty Images Entertainment/Getty Images
Meghan Markle's Go-To Nail Salon In London Is Surprisingly Affordable
When you become a duchess, your new country and, really, the whole world, expects you to be perfectly polished and coiffed at all times. There's no room for chipped nail polish or a scruffy pony tail when you run to the market for a quart of milk. (Wait. Do royals have to run to the market?) Since Prince Harry and Meghan Markle, Duke and Duchess of Sussex, announced their engagement, all eyes have been on Markle's hand, eyeing her ring, and she's never not had the perfect manicure. So where does Meghan Markle get her nails done? Because they always look flawless.
Although she could probably have someone come to her at Nottingham Cottage, the two bedroom house on the grounds of Kensington Palace she shares with Prince Harry, Duchess Meghan has been reported to go to Nails and Brows, a eyebrow and nail salon in the Mayfair section of London, reported Us Weekly. Even though it calls itself, "the first, luxury concept nail and brow styling boutique in London offering both service and expertise," regular girls can get a manicure there, too. They offer online booking and, much to my surprise, there are appointments available as early as tomorrow. With a simple file and polish costing £24 (or $32), it won't break your bank account. There are a range of other manicure services, including organic treatments, and the Nails and Brows Signature Manicure, where for £60 (or about $80) you can have your nails shaped and tidied, your hands exfoliated with parrafin wax, and a hand massage, all before your polish is applied. The upper-level of the salon is reserved for brow shaping and there are private rooms where you can have massages. You can even have a hen party (that's British for bachelorette party) there.
One thing the Duchess won't be getting? The £66.00 (approximately $88) Gold-Kissed Manicure, where "kisses of 24 Carat gold leaf are used to create intricate nail art." Queen Elizabeth insists on strict royal nail protocol. "Royals are expected to wear their nails neat, clean, and groomed at all times," according to Harpers Bazaar. "If you're not going to wear your nails bare and buffed, nude nail polish is allowed, as is one particular shade of pink: Essie Ballet Slippers." Harpers Bazaar reported that Ballet Slippers by Essie has been the go-to polish for Queen Elizabeth for over 30 years and that the shade of nail polish that Duchess Meghan wore to her engagement announcement looked a lot like the Queen's favorite.
Duchess Kate is several years ahead of Duchess Meghan when it comes to being on top of royal nail protocol. She's been lucky to have her own private manicurist, Marina Sandoval, who comes to her at Kensington Palace. Sandoval has been on hand (no pun intended!) to do the Duchess's nails for her 2011 wedding and the after the births of her children. After Princess Charlotte's birth in 2015, the Daily Mail reported that Duchess Kate had her nails done a week before the baby's birth, but also just before she appeared outside the Lindo Wing of St. Mary's Hospital, sporting a French manicure. After Prince Louis' birth, The Sun suggested she was wearing her favorite nail polish combination: Essie's Allure polish and Bourjois' So Laque. This was the nail polish combination that Sandoval blended for Kate for her own wedding to Princes William, reported InStyle.
Royal nail protocol only extends to public appearances, so Kate and Meghan can hang with little Charlotte any time they want and do manis and pedis in any color of the rainbow. In fact, if Meghan is in closed-toed shoes, she could be silently rebelling with neon-orange or sparkly purple polish. And for public appearances, she seems to have found her go-to team at Nails and Brows.