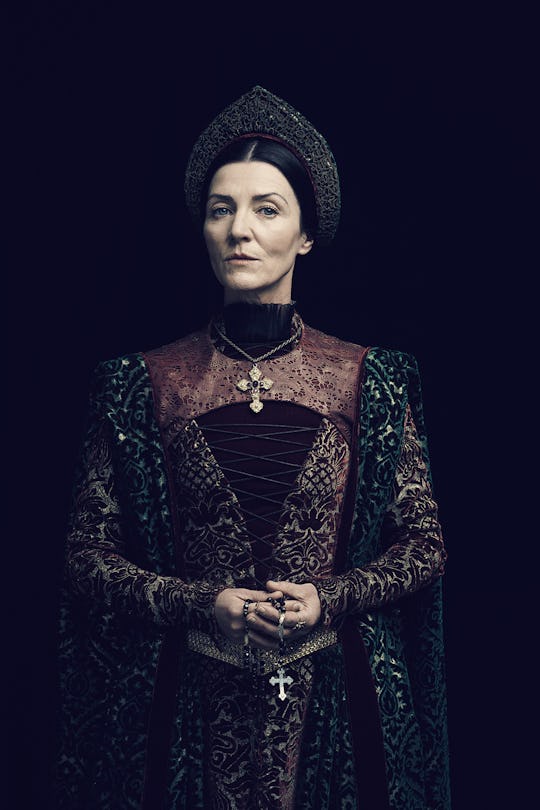 Starz
Michelle Fairley's Character On 'The White Princess' Is Fierce AF
Oh, how I've missed seeing Michelle Fairley on my television screens each week. She played Catelyn Stark on HBO's Game of Thrones the first three seasons. In case you've been living under a rock since 2013, you know her character had an... untimely end, to say the least. Thankfully, Fairley is back in another period piece, but this one is a little more true to life. The dragons may be gone but the drama remains in The White Princess, Starz's new show about the War of the Roses. So who does Michelle Fairley play on The White Princess? She may know something about slitting throats as well.
As Deadline reported back in 2016, Fairley will portray Margaret Beaufort, Henry VII's mother. Beaufort was credited as a driving force of Henry Tudor becoming king. She is described as a philanthropist as well as a murderer. Sound familiar? That's actually not surprising: in 2014, The Independent published a story entitled "Real Life Game of Thrones" about Beaufort's life and her fight for political power. In The White Princess, the sequel to the novel and miniseries The White Queen, not only is Beaufort's goal for Henry to be king, but for the House of Tudor to remain in control of England. To do that, she gets at odds with Princess Elizabeth of York and the House of York... while Elizabeth is married to her son.
It's clear from the true story of Beaufort and from The White Princess trailer that she won't be playing around. In an interview with Refinery29, Jodie Comer, who plays Elizabeth of York, confirmed that Margaret will be as intense as fans are imagining. "Margaret's fierce, and she's quite terrifying. Margaret doesn't have to say a lot, Margaret can do it all with a look," Comer said.
Elizabeth, however, proves to be a worthy adversary. According to Comer, she is initially intimidated by her mother-in-law, but that changes as the series goes on. "But towards the end of the series, she's kind of like a little mini-Margaret," Comer revealed in the same interview. "She learns a lot from Margaret about ruling and looking after your family."
From the looks of it, it seems that Fairley is playing another strong maternal character. As viewers loved watching Catelyn Stark fight for herself and her family, I have a feeling it will be the same with Margaret. An added layer, too, is that the real Margaret was just as fierce. There are many reasons to tune into The White Princess — historical drama, the outfits, the accents — but these badass characters are definitely at the top of the list.