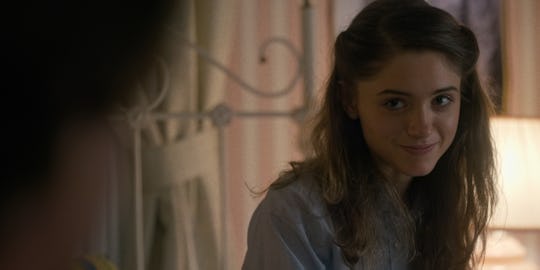 Finn Wolfhard/Netflix
Who Does Nancy Wheeler End Up With On 'Stranger Things'? Things End On A "Strange" Note
There are a lot of moving pieces for Nancy Wheeler on Stranger Things. First, there's the fact that her brother's best friend is taken by a monster in the middle of the woods. Then, of course, she starts dating the most popular guy in the school and is instantly the "girl to talk about." Her best friend Barb becomes a victim of the monster, as well, and the last thing Nancy really needs is a love triangle. Unfortunately, that's exactly what she gets. So who does Nancy Wheeler end up with on Stranger Things. Well, there's a clear answer, but that doesn't necessarily mean it's the only answer.
The show starts with Nancy Wheeler having her "it girl" moment in the high school she attends with her best friend Barb. The two of them are clearly not the most popular, but Steve Harrington — the most popular boy in school — has taken a liking to Nancy, so she is instantly catapulted into the spotlight. That obviously comes with good and bad things attached, as she first of all doesn't seem entirely comfortable in the public eye, and second of all, it starts to draw a bit of a line between her and Barb.
Throughout the show, Nancy is always interested in Steve, despite his grade-A douchiness in some moments. He seems to overcome them, though, when he realizes he could lose her to Will Byers' brother, Jonathon, who she seems to build a friendship with as the two try to figure out the disappearance of Will and Barb.
In the end of the season, it seems that Nancy ends up with Steve — at least that is what we are meant to believe as the two snuggle up next to the Christmas tree. Then again, Jonathon is given a Christmas gift by Nancy, so perhaps things are "complicated" between the two. Or, maybe it's just a gift you give your friend to thank him for all of the trauma the two of you just went through. Either way, the series seems to end on a rather definitive note that Nancy does indeed end up with Steve Harrington.