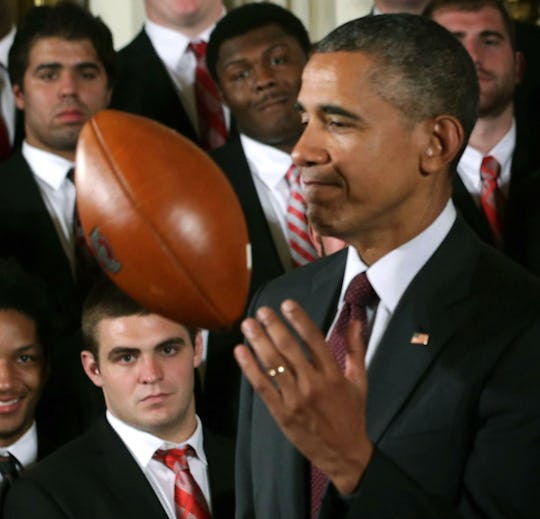 Alex Wong/Getty
Who Does Obama Want To Win Super Bowl 50? POTUS Is Keeping His Opinion A Secret
When you're the leader of the United States, you're probably expected to maintain a certain level of neutrality when it comes to sporting events. After all, you wouldn't want to run for reelection and have 49 states shoot you down because you don't support their teams. But at the same time, if you're someone who loves sports, you shouldn't have to hide your team spirit. So when it came time for President Barack Obama's Super Bowl interview on Sunday, the main question on viewers mind was, who does Obama want to win Super Bowl 50?
Now, obviously, as a Chicago man, it would have probably been Obama's dream to see the Chicago Bears take the field during his final Super Bowl as president. But given the team's atrocious 6-10 record, that dream will never be. Instead, he is forced to chose between the Denver Broncos or the Carolina Panthers. But this year, Obama kept his predictions close to the chest. Instead of flat-out asking who Obama thought would win the Super Bowl (or who he'd want to see win), interviewer Gayle King asked him to circle his predictions on a piece of paper, which she would seal in an envelope and reveal during Monday morning's episode of The Today Show. The cameras, however, caught a glimpse of Obama's ballot and it looks like he picked the Panthers to win Super Bowl 50.
This isn't the first time Obama has offered an opinion on football. Though the president often stays neutral when it comes to Super Bowl games, he sided with the Patriots in the case of Deflategate in 2015. During his interview with Savannah Guthrie, Obama said that he thought the Patriots would have beaten the Colts regardless of any flattened balls. That may not have been his best decision, but would you wanna suffer the wrath of Gisele and her husband?
Perhaps Obama likes to root for an underdog. Maybe he just like Carolina blues. Whatever his reason, it'll be interesting to see the official vote tomorrow morning.