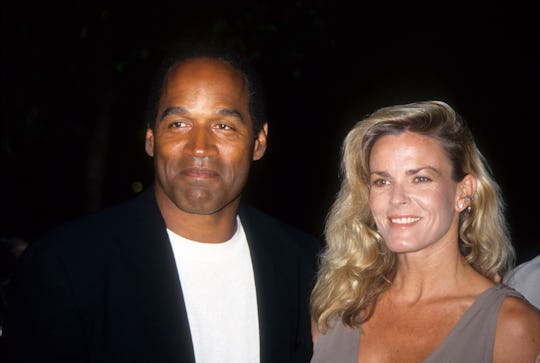 Archive Photos/Archive Photos/Getty Images
Who Does O.J. Simpson Think Killed Nicole Brown Simpson? Here Are A Few Theories
The FX series The People v. O.J. Simpson: American Crime Story has revived interest in The Trial of the Century, which had thousands of Americans across the country parked in front of their TVs waiting to hear the verdict in the contentious trial of O.J. Simpson. Simpson, who was later acquitted of murder charges for the murders of his ex-wife Nicole Brown Simpson and her friend Ronald Goldman, maintained his innocence. The verdict was hotly contested, and Simpson was actually found liable for their deaths in a separate civil suit. But, the million dollar question all these years has been, who does O.J. Simpson think killed Nicole Brown if it wasn't him? He has never actually spoken out about who could've killed them, and the book If I Did It certainly didn't help his lawyers claims that he wasn't involved. Simpson's current legal team hasn't responded to Romper's request for comment regarding his alleged involvement in the murders.
Simpson likely hasn't discussed the murders of Brown Simpson and Goldman in detail because his lawyers in the '90s probably advised him against doing anything like that for fear that he might incriminate himself (presuming he had any involvement, which the criminal trial says he didn't). In 2011, Simpson's lawyer F. Lee Bailey wrote a 20,000-word essay on his website about a neighbor named Tom Lang who Bailey said saw two strange men outside of Brown Simpson's condo on the night of the murders, according to People.
According to Bailey, the murders were a drug deal gone wrong (a theory that was actually used by defense attorneys in the original trial, according to the New York Times). The defense in the original trial made arguments against the victims' character to show why they might be involved in drugs. The defense also argued that there was no murder weapon with Simpson's fingerprints on it (remember the glove thing?), and that the glove found at the scene with blood on it did not fit Simpson, according to the Times.
But, what I believe is the defense's most interesting claim that also speaks to who Simpson believes may have committed the murders, is the defense's idea that Simpson couldn't have possibly overpowered two young, fit adults at the same time without either of them hurting him or putting up a fight that would have left his DNA on them, according to the Times. The defense actually argued that the crime was so bad that there had to have been two assailants. Simpson has never publicly said he believes two people or drug dealers killed his ex-wife and her friend, but the fact that it's the claim his defense made means something.