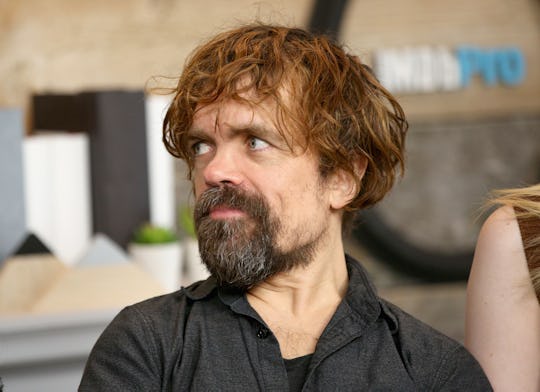 Rich Polk/Getty Images Entertainment/Getty Images
Peter Dinklage's Character In 'Avengers: Infinity War' Is Sure To Be Epic
Avengers: Infinity War has a very large cast and it's a little hard to keep track of everyone who's going to be in it. However, there's one actor who has certainly caught the attention of fans. It's now well known that Game of Thrones actor Peter Dinklage has a role to play in the newest Marvel movie, but for some reason the identity of his character is being kept under wraps. So who does Peter Dinklage play in Avengers: Infinity War?
The two-time Emmy winner is, of course, remaining tight lipped on the subject, because no one ever wants to be that actor who accidentally spoils the movie. But there are a number of theories about who Dinklage could possibly be in the film. All fans really know so far is that Dinklage will be recognizable in his role, unlike some other actors who play characters that look nothing like them due to CGI enhancements. Additionally, fans now know who Dinklage won't be in the film.
Fans speculated that Dinklage would take on the part of Corvus Glaive, a member of Thanos' group of ruthless aliens known as the Black Order. Unfortunately, the directors of the movie, the Russo brothers, have confirmed that's not true. During a press junket, Joe Russo told CinemaBlend that Michael Shaw plays Corvus, a statement Shaw later confirmed himself on Twitter.
Another theory is that Dinklage will play Pip the Troll, who has connections to Gamora and Thanos in the Marvel Comics. Pip is easily recognizable by his red hair and Dinklage was spotted near the film's set with his hair dyed a bright red, seemingly confirming his role as Pip. However, this has also led other's to believe Dinklage could be playing Starfox, who also has red hair. Starfox is Thanos' brother and he was also an Avenger.
Dinklage could also play the character Mephisto, a major Marvel villain who was an underling to Thanos until he purposefully started giving Thanos bad advice. The character looks like a demon so if Dinklage is playing this character he'd most likely just be loaning his voice to the character, which wouldn't explain the hair color change. Still, it's certainly a possibility. There is an overwhelming number of characters in the Marvel comics that haven't made it into the Marvel Cinematic Universe yet, so the possibilities of who he could be are almost endless.
Many fans have pointed out that this won't be Dinklage's first time playing a character in a Marvel film and perhaps he will reprise the role. Unfortunately, that's highly unlikely since he played the role of Dr. Bolivar Trask in X-Men: Days of Future Past, and the X-Men movies fall under 21st Century Fox, not Disney/Marvel. Thus, a crossover isn't possible though that could change in the future now that Disney has acquired 21st Century Fox. But that won't be the case right now.
Instead, Dinklage will be playing someone new to the big screen, and it seems the only way to find out who it is to watch Infinity War, which really isn't that big of a task since pretty much everyone will be watching this movie anyway. So when you watch, just make sure to keep an eye out for Dinklage. Although the Russo brothers claim he'll be recognizable, with so much going on in the movie, you may miss him if you're not paying close attention.
You can see Dinklage, in whatever role he's playing, when Avengers: Infinity War, comes out in theaters on Friday, April 27.
Check out Romper's new video series, Romper's Doula Diaries:
Watch full episodes of Romper's Doula Diaries on Facebook Watch.