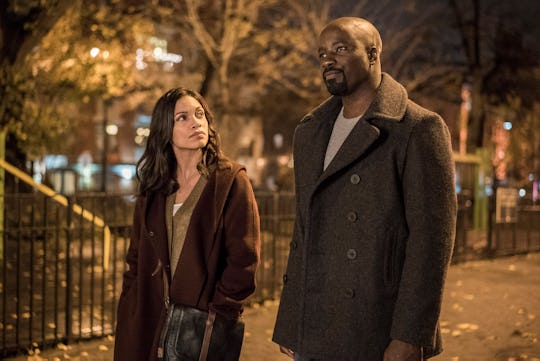 Who Does Rosario Dawson Play On 'Luke Cage'? She's Still Our Favorite Nurse
It's almost time for Netflix's latest Marvel venture: Luke Cage. Luke first appeared in Jessica Jones but now he has his own show to tell his story and fans can't wait to see it. Whether or not Krysten Ritter (Jessica Jones) will return the favor by appearing on Luke Cage remains to be seen but one actress who appeared in Jessica Jones will also have a role in the new series. Rosario Dawson will play Claire Temple on Luke Cage, as she did in Jessica Jones and originally in Daredevil.
It's unclear what exactly Claire's role will be in Luke Cage but she'll most likely be playing nurse to the new hero in her life. She already helped Luke before when Jessica was forced to shoot him while he was under the control of Kilgrave. Claire has had her fair share of mending vigilantes and helping out Luke wouldn't be too crazy for her. It's also possible Claire may have a romantic relationship with Luke. In the comic books Claire and Luke do date, although it's not a lasting relationship since Luke and Jessica are the ones who end up married. Still, if Claire and Luke do date in the new series that would make things very interesting when all these vigilantes, including Daredevil, who had his own fling with Claire, and Jessica Jones, team up for The Defenders.
Whether or not Claire will just be in one episode like she was in Jessica Jones, or stick around for the long haul and be somewhat of a main character in the series, her appearance in Luke Cage is interesting. It seems Claire is the string that connects all the Defenders together. All she has to do now is meet Iron Fist and she'll have the whole team. Maybe she'll be the reason why these heroes team up together. Unfortunately, we have a while to wait before we find that out.
For now we can at least be excited about the upcoming release of Luke Cage, which is set to premiere on Netflix Global on Sept. 30 at midnight PST. You won't want to miss it!