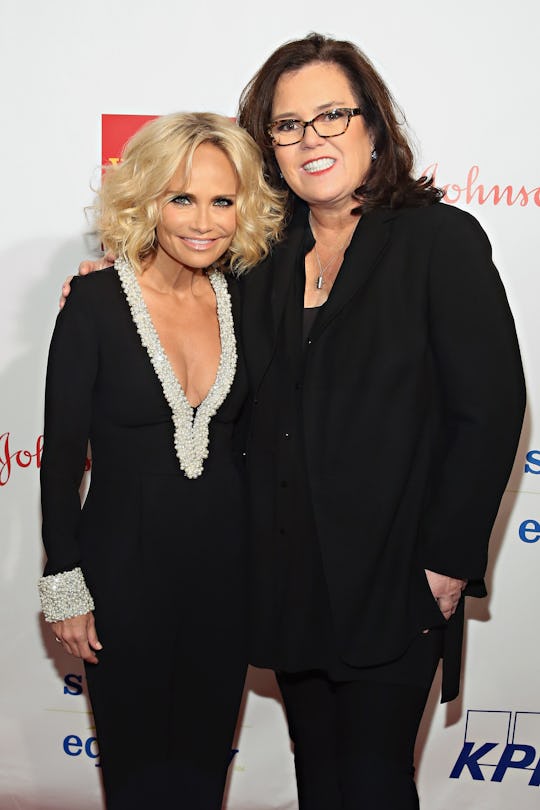 Cindy Ord/Getty Images Entertainment/Getty Images
Who Does Rosie O'Donnell Play On 'Hairspray Live!'? She May Fill More Than One Role
NBC has led the way with this new era of live TV productions of our favorite musicals. So far it has done The Sound of Music, Peter Pan, The Wiz, and now, Hairspray, which may be the best production yet. The cast of the production is star-studded and includes the likes of Ariana Grande, Jennifer Hudson, Martin Short, Dove Cameron, and Rosie O'Donnell. So who is Rosie O'Donnell playing on Hairspray Live!? Well she may have more than one role.
According to Entertainment Weekly, O'Donnell was cast to the play the role of the gym teacher. But in the musical version of Hairspray, the actress who played the gym teacher also doubled as Mrs. Pingleton, Penny's mother, as well as the prison matron. However, according to IMDB, Andrea Martin has already been cast for the part of Prudy Pingleton. So if that's the case, it's unclear whether or not O'Donnell will go on to play the dual role of the prison matron or just portray the gym teacher throughout the performance. No matter how many roles O'Donnell has in the TV production, though, it'll be great to see her regardless.
O'Donnell is an Emmy award-winning actress and an excellent comedian. She's starred and appeared in various TV shows over the years, including The Fosters, Empire, Mom, Web Therapy, Drop Dead Diva, Nip/Tuck, Queer as Folk, and Stand by Your Man, to name a few. She's also starred in a multitude of films throughout her impressive career, including A League of Their Own, The Flintstones, Now and Then, and Harriet the Spy. She's also hosted her own talk show, The Rosie Show, as well as co-hosted The View. The only question now is can O'Donnell sing?
This may surprise people, but O'Donnell has actually spent some time on Broadway. She's played a few roles in the theater, but what she's most known for is being the original Betty Rizzo in the Broadway production of Grease back in 1994. She even recently did a new Donald Trump inspired rendition of Rizzo's popular song, "There Are Worse Things I Could Do," earlier this year, which you can watch below. It's unclear how much singing O'Donnell will do in Hairspray Live!, if any at all, but it'd be a shame not to see her voice put to good use.
With such an outstanding cast of performers, it seems NBC is really pulling out all the stops for Hairspray Live! and you definitely won't want to miss it. Hairspray Live! airs on NBC on Dec. 7 at 8 p.m. ET.