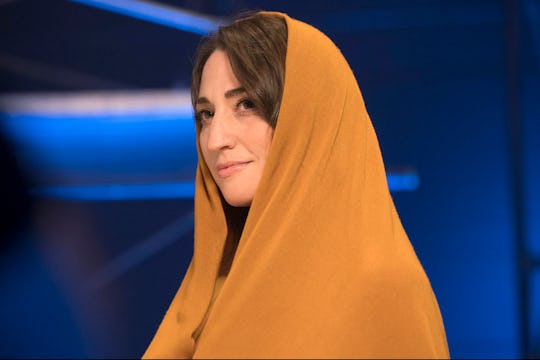 Virginia Sherwood/NBC
Sara Bareilles Is Playing An Important Figure In Jesus' Life On 'Jesus Christ Superstar Live!'
The cast for NBC's new live production Jesus Christ Superstar Live! could hardly be more perfect, especially since John Legend will portray Jesus and Alice Cooper will take on the evil King Herod. But let's not forget about Sara Bareilles, who is certainly no stranger to big Broadway productions. So who does Sara Bareilles play on Jesus Christ Superstar Live? She will play the woman who helped Jesus the most throughout the final week before he was crucified — the much maligned and misunderstood, Mary Magdalene. History knows Mary as a prostitute that Jesus took pity on and not much more. But there's more to her story, and Bareilles wants you to know about it.
Bareilles recently spoke to The Daily Beast a little bit about her character and why she feels so honored to play her. "First of all, what I've learned about her in my little bit of research is that pretty much everything we know about Mary Magdalene is incorrect," she said. "Not to just call out the patriarchy again, but…" She's right. According to Smithsonian.com, Mary was not a prostitute at all, and findings suggest that her status as an apostle rivaled Peter's. It is even possible that she and Jesus had a romantic relationship, though this cannot be proven. But Bareilles wants to portray all of that.
"This is a very powerful woman who basically bankrolled Jesus' campaign. And was a really strong, impassioned figure. Absolutely a disciple," she stated during the same interview. "Most likely [she] had a very deep relationship with Jesus. I feel that this is a great honor to get to tell her story." To be quite honest, it's rare to find an important historical female figure when it comes to Christian tradition. So I'm excited to see how Bareilles will bring all of this to the character, which is someone she clearly respects very much.
In the first look preview of the show above, Bareilles describes Mary thus: "She is a disciple, a believer, a friend, a confidant, a champion." Embarrassingly, even after several years of Catholic school as a child, I never learned any of this about Mary Magdalene, so I'm so excited to see this get portrayed. Bareilles also had other things to say about the show in general, stating that it has "all this beautiful innocence and raw genius." I would be a little worried that the show wouldn't be able to live up to all of this hype, except that its cast is so brilliant.
Bareilles, for example, just finished up her turn as the lead in Broadway's production of Waitress — the music and lyrics of which she wrote, therein earning her a Tony nomination. Bareilles explained on the Today show in January that she got the email to do the NBC musical while she was still acting as Jenna in Waitress, so the show hadn't even begun rehearsing yet because everyone was still so busy. Sure, let's just squeeze in this live performance between being on Broadway and Legend's tour in Asia. No problem.
But if anyone is capable of making this work, I would think that Bareilles is. In addition to all the accolades she's received for Waitress, she is also a six-time Grammy nominee. And it's not like she's not used to performing in front of a live audience. She does that every week. So if she says she's going to make it work, then I believe her. And incidentally, she also happens to have an unbelievable voice. So regardless, it's going to be an unforgettable night.
Jesus Christ Superstar Live! will air on Sunday, April 1 at 8 p.m. EST on NBC.
Check out Romper's new video series, Romper's Doula Diaries:
Watch full episodes of Romper's Doula Diaries on Facebook Watch.