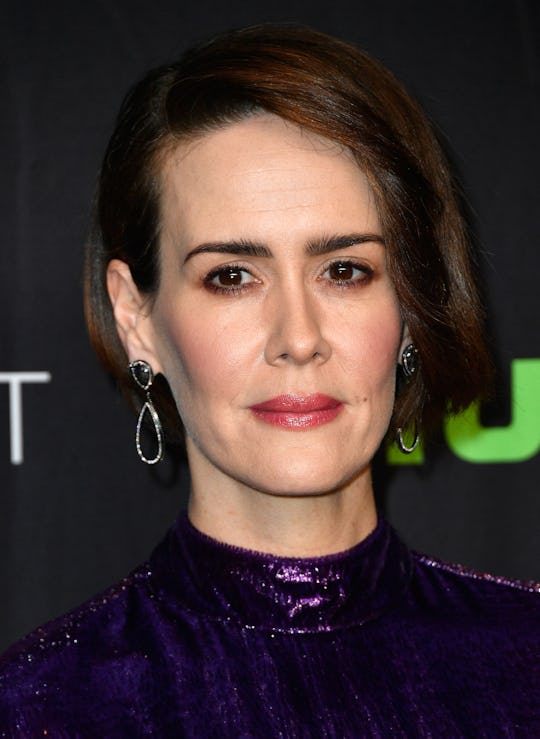 Frazer Harrison/Getty Images Entertainment/Getty Images
Sarah Paulson's 'Feud' Role Is Part Of The Oscars Drama
As soon as Ryan Murphy's latest anthology series Feud was announced, people were waiting for the Sarah Paulson casting news. We knew she didn't have title billing — the leading roles of Bette Davis and Joan Crawford were cast age-appropriately with Susan Sarandon and frequent Murphy collaborator Jessica Lange. Fellow American Horror Story alum Kathy Bates and Catherine Zeta-Jones were also cast in pseudo-narrator roles as other actresses of the era: Joan Blondell and Olivia de Havilland. But, knowing how much Murphy and Paulson love working together, viewers were left wondering: who does Sarah Paulson play on Feud?
Last August, it was finally announced that she'd be playing the role of Geraldine Page, who is sometimes called the "Meryl Streep of her time." She was nominated for seven Academy Awards before finally winning one in 1986, the year before she died. (Meryl Streep has been nominated 20 times and won three.) As it so happens, one of the years Page was nominated for Best Actress was in 1963, alongside Bette Davis for her work in Whatever Happened to Baby Jane? Page was nominated for her role in Sweet Bird of Youth, a film adapted from the Tennessee Williams play of the same name.
The 1963 Academy Awards are a pivotal plotline in Feud. After Baby Jane's box office success, both Davis and Crawford campaigned heavily for nominations. Unfortunately (though unsurprisingly), only Davis earned a nod. Crawford, who had always been regarded as the more attractive but less talented one, was furious, especially because it was she who pushed the movie through production in the first place. The project was, more or less, her baby. So she hatched a plot to collect the Best Actress Oscar, in spite of the fact that she wasn't even nominated.
After nominations were announced, Crawford called up every actress in the category besides Davis to "congratulate" her on her nom. She then offered her services to each woman to accept the award on her behalf, if any of them were going to be absent from the awards. Among the women she struck up this deal with was Geraldine Page, although she wouldn't go on to win the award. Instead, Anne Bancroft won for The Miracle Worker, but she was in New York in the middle of a Broadway run. Bancroft had also accepted Crawford's offer, which meant Crawford wound up on stage accepting the Oscar for Best Actress over her co-star, even though she hadn't even been recognized by the Academy.
Given Paulson and Murphy's rapport, he's probably crafted a juicy subplot for her to work with out of Crawford and Page's interactions. Episode 5 of Feud, which is dedicated to the Oscars of 1963, airs on Sunday, April 2.