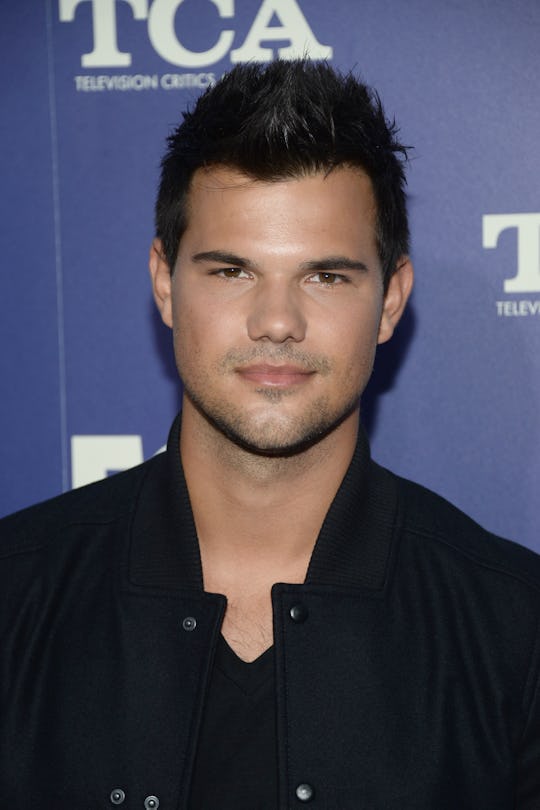 Matt Winkelmeyer/Getty Images Entertainment/Getty Images
Who Does Taylor Lautner Play On 'Scream Queens'? He's "Basically Female Viagra"
You probably knew him best as the shirtless CGI werewolf from the Twilight saga, and that's OK. This is a judgment-free zone, especially when it comes to Taylor Lautner. And when he comes to the smaller screen this fall, he'll be slipping into one of the leading roles on FOX's Scream Queens. But who does Taylor Lautner play on Scream Queens? Somehow, much of the cast from the previous season is going to be returning, reprising the same roles they had before, including Lea Michelle, Emma Roberts, Niecy Nash, and Jamie Lee Curtis, just to name a few, but it is Lautner that is sure to catch your eye.
When Lautner makes his own Scream Queens debut, he'll be doing so alongside another newcomer and resident hot Uncle Jesse, John Stamos. Lautner will be playing a character by the name of Dr. Cassidy Cascade (that name), in the show's new setting which will be a hospital during Season 2 instead of the sorority house and college campus from Season 1. It definitely brings you back to Ryan Murphy's other horror TV anthology, American Horror Story, when the first season was a haunted house and the second was a totally crazy insane asylum. Which is basically the same as a hospital in this case.
Lautner's character of Dr. Cassidy Cascade is set to be one of the two male doctors to obviously make the returning characters, who are now medical students at the hospital, fight each other over them. As Lautner says of his MD alter ego, "I'm basically female Viagra." It's unclear right now as to what purpose Lautner's character will serve, other than being really good looking, but Dr. Cassidy Cascade is also said to become one of suspects in whatever string of mysterious crimes end up rocking the hospital. Naturally.
Before his days as Jacob Black in the Twilight series, Lautner worked on various TV movies and even appeared in TV shows like The Bernie Mack Show and Love, Inc. So making this return to television isn't going to be much trouble for the versatile actor, and neither is being ogled for his good looks. As a character named Dr. Cassidy Cascade in Scream Queens, he's obviously going to be some over the top and overly dramatic character we aren't supposed to take seriously, but so are most of the characters we come across on the horror comedy, so that's kind of to be expected. Maybe he'll give Chad a run for his money.