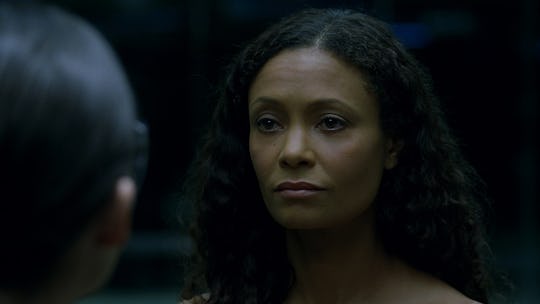 John P. Johnson/HBO
Who Does Thandie Newton Play On 'Westworld'? Her Story Is Just Beginning
The actors on Westworld who are responsible for portraying the robots have a curious and difficult task ahead of them that, so far, they've all handled with immense skill. They have to portray characters that are essentially cliches and keep them interesting while also preparing them for the shift towards genuine consciousness. Evan Rachel Wood's Dolores, for example, is a simple country girl who wakes up like a princess in a Disney movie and treats the world like one giant present. However, the increased awareness of the robots means she's teetering towards understanding just how dark her world can be. Similarly, Thandie Newton's character is made up of a bunch of fun cliches that are set to unravel as the series goes on. But who does Thandie Newton play on Westworld?
Newton plays Maeve Millay, the tough-as-nails, see-it-all madame of a brothel who tosses off one-liners and fires guns with a distinctive feistiness. Though on one level Maeve has more outward gumption than Dolores, she is also a creation intended to cater to a specific kind of fantasy. In "The Original," Maeve entertains guests and flirts with robbers, all with an appealing world weariness that suits the part she had been made to play. Not much is revealed about Maeve in the first episode, though promos for the season show she has quite the journey ahead of her.
In one promo, Maeve expresses confusion over her life: one minute she's with a small child (who might be her daughter) and in another she's somewhere else entirely. "It's all a story created to keep me here," she says at one point, before declaring, "Time to write my own story." The very characteristics that make Maeve the perfect stereotype of a badass madame may also allow her to seize some control of her android life as she becomes more aware of what's going on. She had strength programmed into her, and it looks like she may only get stronger.
Newton was originally approached to play another character (she declined to say which one) but she ended up choosing Maeve herself, finding her to be more of a personal challenge. Playing Maeve also seemed to dovetail nicely with the issues that were already very important to Newton. "My social activism, my activism for women's rights, which takes up a huge proportion of my time, but wasn't my day job," she said. "So suddenly my day job was going to be turned into telling those stories and potentially go on for a number of years, I was like, 'Count me the f*ck in.'"
The complex questions raised by the series are what drew Newton to it in the first place, and allowed her to feel a sense of control that has been denied her in the past. Maeve's story is only just beginning, but it seems primed to leave the cliches behind as she takes control of her own narrative.