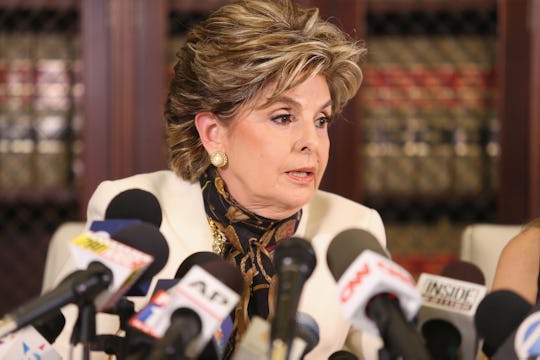 Frederick M. Brown/Getty Images Entertainment/Getty Images
Who Else Has Gloria Allred Represented? Allred Is A Civil Rights Attorney
On Friday afternoon, a former contestant — Summer Zervos — on Donald Trumps' reality show, The Apprentice, reportedly accused him of unwanted sexual advances. It took a lot of strength for Zervos to come forward, but she wasn't alone when she made these statements at the press conference —attorney Gloria Allred was at her side. But in addition to Zervos, who else has Gloria Allred represented? Allred has a history of fighting for some very famous women in some very high profile cases.
While people might not be familiar with Gloria Allred's name or face, they might be a little more familiar with her clients. Since the beginning of her decades long career, Allred has continually fought against discrimination and spoke up for women in the media who have needed a voice. Allred is known for taking on more difficult cases that other attorneys might shy away from — specifically, according to The Los Angeles Times, "high profile discrimination and sexual abuse lawsuits." The list of people she has represented is extensive and impressive, as Allred has truly been a voice for women to bring allegations forward in the spotlight. While the full list could take days to write, here are just a few of Allred's clients, in addition to Zervos.
Nicole Brown Simpson's Family
According to The Los Angeles Times, in 1994, after OJ Simpson's wife, Nicole Brown Simpson was found dead, along with friend Ronald Goldman, Allred represented Nicole Brown Simpson's family during the "trial of the century." According to Fox News, Allred tried to shine a light on domestic abuse during the trial and to this day reportedly "believes the criminal justice system failed to shield Nicole from domestic violence."
Amber Frey
In 2004, Scott Petersen was convicted of murdering his wife in California. While his case was undergoing trial, according to People, Allred represented Petersen's ex-girlfriend, Amber Frey. During the time that Frey testified against Petersen during the trial, Allred served as Frey's publicist and advocate, according to The Los Angeles Times.
Hunter Tylo
Allred's work protects women on all bases — even discrimination lawsuits. According to TIME, Allred represented actress Hunter Tylo in 1995 when Tylo accused Melrose Place producer Aaron Spelling for firing her from a show because she was pregnant. Allred's representation of Tylo helped Tylo win $4.8 million once the accusations went to trial and in front of a jury.
Ginger Lee
When news broke that New York Representative Anthony Weiner had allegedly "sexted" women in 2011, one woman — Ginger Lee — stepped forward. When Lee held a press conference about their "electronically driven relationship," according to The Los Angeles Times, Allred was by her side.
Melanie Brown
When singer Melanie Brown — ok, "Scary Spice" from girl group, Spice Girls — needed custody help, she called on Allred to represent her. According to TIME, in 2007, actor Eddie Murphy denied all claims that he had fathered Brown's unborn child. When Allred came into the picture, she and Brown took Murphy to court, where a paternity test confirmed that Murphy was the father.
Sharon Bialek
Donald Trump is not the first politician that Allred has gone up against. During the 2012 presidential election, businessman Herman Cain was running in the Republican primary election. In 2011, Bialek came forward to allege that she had been sexually harassed by Cain, according to The Daily Beast. Allred represented Bialek during this time. According to The Los Angeles Times, after Bialek came forward with her allegations, Cain's campaign for the nomination "fell apart."
The Bill Cosby Accusers
In 2015, according to People, reportedly more than 40 women stepped forward with various claims that Cosby had allegedly sexually assaulted them. According to Yahoo, Allred is representing the accusers in court.
Jenna Talackova
Allred has dealt with cases against Donald Trump in the past, too. In 2012, Allred represented Canadian beauty pageant contestant Jenna Talackova. According to E!, Talackova had been let go from the country's Miss Universe pageant after they found out that Talackova was not a "naturally born female." At the time, Donald Trump owned the Miss Universe pageant. According to The Guardian, once Allred got involved, Talackova was allowed to compete in the pageant.
Allred's career representing women shows that she will continue to be an advocate for women who step forward at times when they feel that their voices and stories need to — and will — be heard.