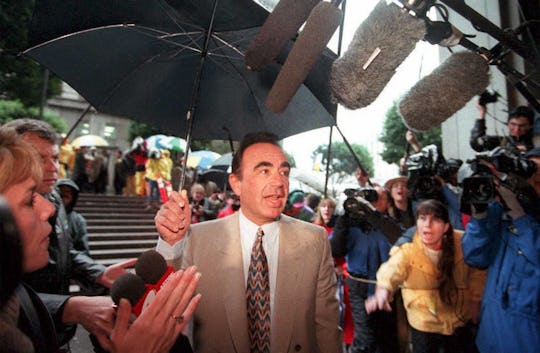 MIKE NELSON/AFP/Getty Images
Who Else Has Robert Shapiro Defended? He's Been On The Celebrity Radar For Quite Some Time
American Crime Story: The People v. OJ Simpson is less than ten days away, and the world's interest in the O.J. Simpson case is about to explode — again. Much has been said about the case and Simpson since 1995, but the first season of FX's new series aims to delve into the behind-the-scenes action from the point of view of the lawyers involved. John Travolta has been cast as Robert Shapiro, one of the top lawyers that made up Simpson's "dream team." While Simpson's double-murder trial was likely the most famous case he has been associated with, Shapiro has also defended Rob Kardashian, Lindsay Lohan, Eva Longoria, Linda Lovelace, Christian Brando, and many more celebrities.
It's not surprising — if I had a celebrity's bank account and ran into trouble, the first lawyer I'd dial up would be whoever got O.J. Simpson out of trouble. And that's what quite a few people have done. Rob Kardashian Jr. — whose late father was actually part of the "dream team" along with Shapiro — had the lawyer defend him when he was accused of battery and petty theft after a confrontation with paparazzi. Shapiro also founded ShoeDazzle alongside Kim Kardashian, and in 2013, repped Khloe Kardashian's husband Lamar Odom after he was slapped with a DUI. It looks like being part of Simpson's defense sealed Shapiro in pretty tight with fellow lawyer Robert Kardashian — and the rest of the Kardashian clan.
Aside from big-name family friends, Shapiro defended Lindsay Lohan (for a grand total of, um, four days) in 2010. When he took on her trial, he told TMZ, "I have agreed to represent Ms. Lohan on the condition that she complies with all the terms of her probation, including a requirement of jail time that was imposed by Judge Marsha Revel." However, the day before Lohan was scheduled to report for her three-month sentence, Shapiro quit the case, possibly due to Lohan allegedly wanting to appeal rather than face prison time.
The lawyer did seem concerned, however, and told TMZ, "Ms. Lohan is suffering from a disease that I am all too familiar with." Shapiro's own son, Brent, died at 24 after an MDMA overdose, according to LA Weekly, and had been in rehabilitation for alcohol and drug abuse. After his death, Shapiro founded the Brent Shapiro Foundation and told FOX that his greatest happiness came from the work he did with the alcohol and drug awareness non-profit.
After representing Lohan, Shapiro went on to fire bankruptcy protection for Eva Longoria in 2011, after her Beso and Eve entertainment ventures went under. He's also defended resort mogul Steve Wynn of Wynn Resorts, and a man who allegedly sold unproven stem cell treatments to those with incurable conditions.
In American Crime Story: The People v. OJ Simpson, Shapiro will be played by John Travolta. You can catch a glimpse of him in the trailer below, if you're itching for a sneak peek.
And as for me? I'm pretty sure I know what I'll be watching on Feb. 2.
Images: Mike Nelson/AFP/Getty Images