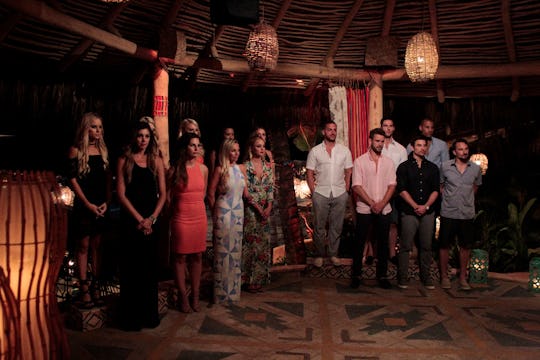 Rick Rowell/ABC
Who Else Is Joining 'Bachelor In Paradise'? Fan Favorites Might Shake Things Up
The Bachelor and The Bachelorette, while incredibly addictive, don't have that kinda-trashy and scandalous vibe that their little sister-show Bachelor in Paradise does. And, come on – it's a reality show. Sometimes, we just need that little bit of extra trashiness in our TV-watching lives. Now that we're taking a beach break from the buttoned-up formal wear drama and poignant tears of The Bachelorette with the upcoming third season of Bachelor in Paradise, it's time to start asking the important questions – like who else is joining Bachelor in Paradise this season.
A refresher for those unfamiliar with the Bachelor in Paradise format (or for those who forgot since, obviously, we haven't taken a trip to paradise since this time last year): Each week, there is an uneven number of men and women in paradise. The genders alternate between handing out the roses to the contestants that they want to continue to "get to know" – one week, the women hand out the roses eliminating men who aren't picked, while the next, the men hand out the roses eliminating women who aren't picked, etc. Every week, two new contestants arrive in paradise to shake things up, making it a near-constant revolving door of relationships and hook-ups. It also keeps things interesting because, in some cases, we're just as clueless about who's turning up in paradise as the contestants are.
Only a handful of contestants (the full Week 1 group) were officially confirmed by the show, either by official press releases, season promos, or press photos. Those contestants were Nick Viall from Bachelorette Seasons 10 and 11, Jared Haibon from Bachelorette Season 11, Sarah Herron from Bachelor Season 17, Carly Waddell from Bachelor Season 19, a group of women from Ben Higgins' Bachelor Season 20, including Emily and Haley Ferguson, Leah Block, Lace Morris, Amanda Stanton, Jubilee Sharpe, and Isabel Goodkind, and a group of men from JoJo Fletcher's Bachelorette Season 12, including Chad Johnson, Daniel Maguire, Evan Bass, Grant Kemp, and Vinny Ventiera.
Of course, the extended promo for the season managed to confirm a few rumored appearances as well. Here are a few of the notable faces either still-rumored or now-confirmed to appear in Bachelor in Paradise Season 3 after Week 1.
Wells Adams
Thank the almighty Chris Harrison. Fan fave (and perpetual voice of reason amidst a cloud of chaos) Bachelorette Season 20's Wells Adams is absolutely, definitely, 100% really appearing at some point this season. The promo shows Wells apparently hitting it off with Ashley Iaconetti.
Ashley Iaconetti
Speaking of Ashley I. – the Bachelor in Paradise Season 2 alum is set to show up as well. She appears to bond with Wells after stressing about Jared's burgeoning romance with Caila.
Caila Quinn
Caila, the adorbs third place finisher from Ben Higgins' season of The Bachelor and almost-Bachelorette, is set to appear on Bachelor in Paradise. In the promo, she gets close to Jared, potentially setting off drama with Ashley I.
Josh Murray
Andi Dorfman's reality dating show vet Josh is rumored to appear on this season of the spin-off series, after he hinted at it back in June. We don't see him in the latest promo, but this rumored appearance would mean he went right from an appearance on Famously Single to this. Interesting.
So there you have it, folks – these are a few of the familiar Bach faces we're going to see in paradise this season. Based on the latest extended promo, things are going to get *super* dramatic this year and I, for one, will definitely be tuning in.