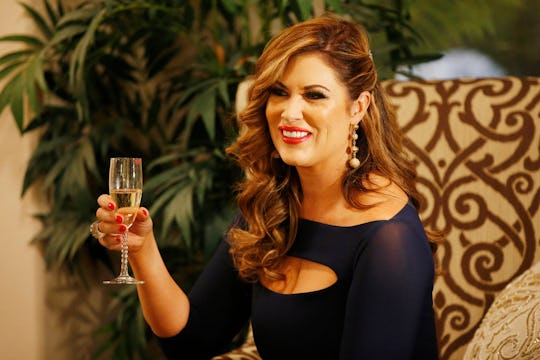 Phillip Faraone/Bravo
Emily Simpson's Husband Shane Made An Interesting First Impression On 'RHOC'
Though Emily Simpson and her family have only been on The Real Housewives of Orange County for one season, it's been a bumpy ride so far. Emily's husband Shane hasn't made a great impression on a few of the Housewives, including Gina Kirschenheiter and Kelly Dodd. But (at least in Gina's case) Emily felt the other women had to get to know Shane better. So who is Emily Simpson's husband on RHOC?
Shane Simpson seems to be pretty private aside from his brief appearances on the show. His Instagram account isn't public and he doesn't have a Twitter, though he does show up semi-regularly on Emily's Instagram. Her posts make it clear how important her family is to her, which any fan could have guessed after her explosive reaction to Kelly's comments about Shane in Episode 8. Emily captioned one photo of the family "my world" with an emoji of the Earth, while she said on another, "My family is everything to me and thank you for allowing me to give you a glimpse into the Simpsons' lives. We aren't perfect (especially me)... But we LOVE each other and nothing can break that. [sic]"
Shane's solo online presence may be scarce, but he does have one. Outside of Emily's Instagram, there is a LinkedIn account that seems to belong to him. It could gave fans a little more insight into Shane.
There's no picture on this Shane Simpson's LinkedIn account, but it does state that he lives in Orange County and has a law background, like Emily's husband. It also says that he attended Chapman University for his Bachelor's degree in Criminal Justice before graduating from Whittier Law School; on Facebook, Shane lists Chapman and Whittier as his alma maters. It hasn't been officially confirmed, but the LinkedIn account seems like it could be Shane's.
The profile states that Shane passed the Utah bar and worked as an associate attorney in Utah at two different firms: Simpson & Simpson Law and Pranno Law. Now, as Emily mentioned on the show, he works in a different field. According to LinkedIn, he's a claims investigator for APEX Investigation. The company appears to focus on insurance fraud, as their website explains:
Our experience investigating thousands of cases and our ability to adapt to the ever-changing laws impacting our clients gives APEX the leading edge in defending frivolous, exaggerated or fraudulent claims. This translates into remarkable results, which ultimately means millions of dollars saved.
Shane's experience as an attorney would definitely come in handy navigating various insurance laws for APEX. He's worked in real estate before as well, and that was actually where he met Emily. In an interview with Bravo, she said that they "worked together for about three years at the same real estate consulting firm" before deciding to get married. They were friends but had never dated; despite that, Emily accepted when Shane proposed over Google Chat.
Shane and Emily have three children together: one daughter named Annabelle and twin boys Luke and Keller. He also has two daughters from his first marriage. Viewers have the rest of Season 13 to get to know Shane, but Emily has made it sound like he might not be the biggest fan of RHOC. While on Watch What Happens Live with Andy Cohen, Emily said:
I think Shane has the same days where he's like, 'Oh, it's OK.' And then other days, he's like, 'I can't believe that we signed up for this. This is ridiculous.'
Shane had a difficult introduction to the show, considering his disagreements with Gina and Kelly, but hopefully the journey will be smoother for him and Emily going forward.