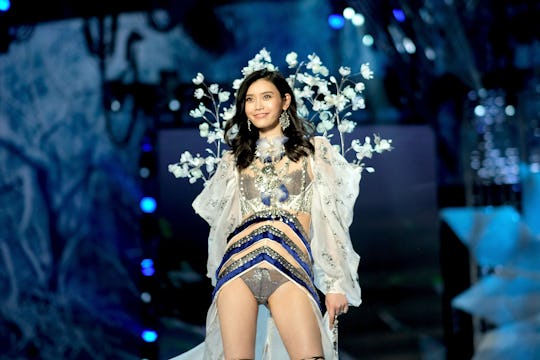 Matt Winkelmeyer/Getty Images Entertainment/Getty Images
One Model Suffered A Tough Mishap At The 2017 Victoria's Secret Fashion Show
The 2017 Victoria's Secret Fashion Show airs Tuesday, Nov. 28, ushering in the holiday season with this year's theme: A Winter's Tale. But the runway show, which took place this year in Shanghai, actually taped a week earlier. And while that means we get a preview of all the looks before the broadcast, it also means we know all the show's mishaps in advance. Unfortunately for one model, that meant a tumble down the runway. So who fell at the 2017 Victoria's Secret Fashion Show? It was five-time veteran Ming Xi.
The Chinese model was first discovered in 2009 through a TV competition, but her career took off after walking in a 2011 Givenchy Haute Spring Show. She's participated in the Victoria's Secret Fashion Show for the past five consecutive years without incident, but this year, she fell as she was making her way down the catwalk. Swishing the long chiffon train of one of her looks, the model got tripped up in her fabric and fell to her knees. Of course, even the photos of her crouched beneath her giant floral wings look graceful. Luckily, Xi picked herself up, straightened her costume, and got on with her strut, with a little help from followup model Gizele Oliveira. As she came down the runway behind Xi, she clapped in celebration of her fallen friend's swift recovery, encouraging the audience to do the same.
Obviously, face planting in front of 18,000 people on the biggest lingerie runway in the world is still completely mortifying. Xi confessed that it was "one of the hardest moments I have ever had to go through in my career" on Instagram, expressing her disappointment at falling in front of her hometown crowd. She writes in the caption of a photo of her stunning look:
As many of you may already know, I fell during my 5th year walking at the Victoria's Secret show yesterday. It was no doubt one of the hardest moments I have ever had to go through in my career, especially since the show was taking place in my hometown, in front of my mother's and my people's eyes. However, the support I received from everyone yesterday was incredible and I am truly grateful to everyone who was there for me. @ed_razekThank you for your supportive words and your continuous support throughout these 7 years. @giizeleoliveira Thank you for helping me up after the fall, it was a very selfless and loving act from you. Thank you to all the girls who rushed to comfort me at backstage after what had happened, you are all family to me. Lastly thank you to everyone who sent and left me supportive messages. I will pick myself up from where I fell, and I will keep going in order to repay all the support you all have given me!! ❤️️#vsfashionshow@victoriassecret
It's a vulnerable, heartfelt message that's even more graceful than her recovery.
Fortunately, Xi doesn't have to worry about her tumble being broadcast stateside: the Victoria's Secret Fashion Show tapes its run-throughs twice for this very reason. So her fall will likely be edited out of the broadcast, sparing her further embarrassment. In the era of social media, footage of her fall has already gone viral, but that only makes her statement all the more appropriate. Her gratitude and humility are far more memorable than her fall. Plus, plenty of models trip during major runway shows. It's basically the modeling world's version of accidentally sending a typo in a cover letter. Embarrassing? Yes. The end of the world? Definitely not.
Check out Romper's new video series, Romper's Doula Diaries:
Watch full episodes of Romper's Doula Diaries on Facebook Watch.