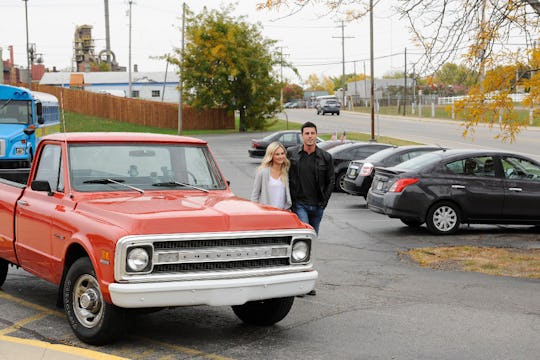 ABC/Jean Whiteside
Who Gets A Hometown Visit Next On 'The Bachelor'? The Contestants' Families Get To Meet Ben On Their Own Turf
Next week's episode of The Bachelor brings us the coveted hometown visits, but first, Ben Higgins had to boot two ladies from his group of six, whom he brought to his own hometown of Warsaw, Indiana this week. (Where else were they supposed to recover from their Bahamas vacation hangover?) So who gets a hometown visit next?
Amanda received a rose very early on in this week's episode, solidifying her opportunity to finally introduce Ben to her two daughters. That left Emily, Caila, Becca, JoJo, and Lauren B. vying for the remaining three roses. Lauren B. and JoJo each got seemingly successful one-on-one dates, hanging out with Ben at his old basketball coaching job and taking a quick trip to Chicago for a private night at Wrigley field, respectively. It was only Emily, however, who got to meet Ben's parents this trip. After all, that seemed only fair since Ben had gotten to meet her mom early on when he was trying to decide which of the twins to keep.
While meeting Ben's folks, Emily was her usual bubbly self, but it really seemed to rub his parents the wrong way. She came off as a bit naive and immature ("I've dreamed of being a Denver cheerleader for as long as I can remember," she told Ben's mom at one point), so much so that Ben's mom actually cried over the prospect of him winding up with her.
"Life is going to get serious sometimes. How are you, how is she going to respond to that?" Ben's mom asked as she teared up. "Parts of that just — the uncertainty — scares me."
Both Ben's parents picked up on how young Emily seemed, and they expressed reservations about whether she was ready for marriage. The interaction with his parents seemed to confirm Ben's reservations about keeping Emily for another week, and he somewhat cruelly dumped her right after having a sweet, multi-generational double date. Poor Emily seemed totally blindsided after reporting how special she felt for being the only girl to get to meet Ben's parents.
Later that night at the rose ceremony, one more woman was slated for elimination, and that unlucky gal was Becca. She was visibly heartbroken at missing out on a rose, and also seemed a little pissed off. Ben did give one big hint that he might have been feeling over it when he told his parents that Becca had been a little "standoffish" in the Bahamas. But at her elimination, Becca made clear that she felt duped by Ben. "Why did you do that?" she whispered as they walked away from the group. "I told you yesterday, I said, 'Please don't blindside me.'"
Ben claimed that he didn't know exactly what he was going to until the last second, but he knew that he didn't want to visit Becca's family if he was still feeling uncertain about their potential as a couple, and she agreed that the breakup was for the best in that case.
So who does that leave for the remaining hometown visits?
Monday night's eliminations leave us with Amanda, JoJo, Lauren B., and Caila's families getting to meet Ben on the ladies' home turf next week. Each family visit seems to boast its own unique pitfalls, so stay tuned to find out who runs Ben out of town. Because you know — there's bound to be even more drama.