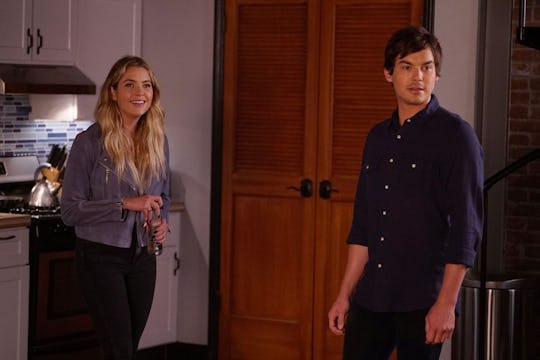 Eric McCandless/Freeform
Another Liar Is Getting Engaged On 'Pretty Little Liars'
There have been a few surprises in the final 10 episodes of Pretty Little Liars thus far. Fans have discovered that Lucas was friends with Charlotte back when the two of them were younger. They've also learned Pastor Ted is Charlotte's dad and it was confirmed Mary Drake really is Spencer's mom after all, and that she killed her sister, Jessica DiLaurentis. However, there's still four episodes left and there's plenty more to be revealed. In this week's episode, fans will find out which of the Liars is also getting married. So who gets engaged on Pretty Little Liars?
The preview for "Driving Miss Crazy" promises that it's one of the Liars who ends up engaged and there's only five of them so thankfully this isn't as difficult of a question to tackle as A.D.'s identity. Aria's not an option since she's already engaged. So unless Aria and Ezra break-up and then he proposes to her all over again in one episode, there's about a 100 percent chance Aria's not getting engaged again this week.
Though Ali finally confessed her love to Emily and they're having a baby together, it still seems a bit too soon for either one of them to get down on bended knee. Sure, traditionally, people like to get married before they have kids, but this is 2017, not the 1950s. And let's be real, there's really nothing about this pregnancy that's traditional, so I feel like we can count Ali and Emily out for a potential engagement. But then again, this show has proven me wrong before.
Spencer's the least likely candidate in my mind. Her brief relationship with Marco has gone up in flames once he started investigating her for the murder of Archer and while "Spoby" fans may still be hoping for a happily ever after, Toby has been M.I.A. from Rosewood since the passing of his wife, Yvonne. The odds of Toby making a grand entrance in the form of a proposal to Spencer seems way too far-fetched, even for PLL.
So that only leaves Hanna, who is honestly in the most stable relationship out of all the Liars right now. She's already told Emily that she's thought about having kids with Caleb, plus in the promo photos of the new episode it appears Hanna's mom Ashley is back in town. It wouldn't be all that surprising if Caleb wanted to sit down with Ashley and ask her about proposing to Hanna and maybe he even wants Ashley to be there when it happens.
You can find out who gets engaged when Pretty Little Liars airs on Tuesday at 8 p.m. ET on Freeform.