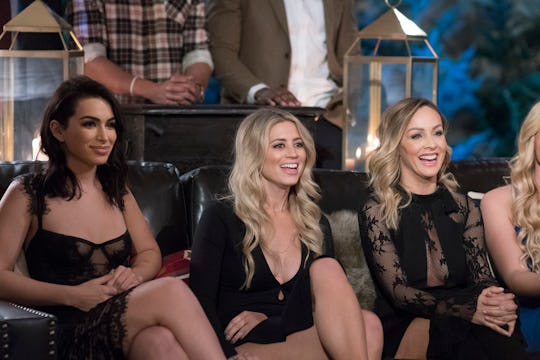 Lorenzo Bevilaqua/ABC
This Theory About Who Gets Engaged On 'The Bachelor Winter Games' Is A Total Game-Changer
It is always amazing to me when, every year, at least one couple gets engaged on Bachelor in Paradise after spending just a few weeks together. But that's exactly what happens. And if you thought The Bachelor Winter Games would be any different, then think again, because someone is definitely getting down on one knee. The only question is — which duo will it involve? Who gets engaged on The Bachelor Winter Games? Viewers have a big theory about who the lucky lady could be, and I have to say it seems pretty sound. If this is true, then I officially can't wait to see the end of this wild, snowy ride.
But first thing's first: how do I know an engagement is taking place? On Feb. 16, the official Bachelor Winter Games twitter account posted a picture of someone's left hand sporting a gigantic Neil Lane diamond ring with the accompanying caption: "Breaking News: There will be ICE on #TheBachelorWinterGames!! Who will be engaged? Watch it all play out next week!" So that means two people did manage to find love in this weird sequestered little space of attractive, former Bachelor alums. So putting on my sleuthing cap, I obviously set out to figure out who this lovely couple was based on a few major clues — like who are the committed couples in the house, who needs to take care of their cuticles, and who wears tiny gold rings like that.
The solid couples in the house so far are Josiah and Ally, Courtney and Lily, Dean and Lesley, and yes let's just give this one to Ashley I. and Kevin. Granted there are a few possible women this hand could belong to, but the general consensus seems to be that the person getting engaged is none other than Clare Crawley from Juan Pablo Galavis' season of The Bachelor. Why her, you may ask? It all has to do with that tiny gold ring on her pinky finger.
Which of the women in the house wear jewelry like that? Unfortunately, because the ring is so small and unassuming, it's hard to see which of the women might wear it. However, some enterprising Bachelor detectives have already found that Clare has a small pinky ring just like that by taking a look at her Instagram account. I don't know about you, but the rings look pretty similiar to me.
But this is where the plot thickens. Clare had been interested in two men in the house, charming francophone Canadian Benoit, and slightly less charming Swiss/German Christian. Clare sent a heartbroken Benoit home in order to pursue her feelings for Christian, who seems to have spent more time lecturing her than actually hanging out with her. Benoit had said that he was falling in love with her and left the house rather than try to pursue something with someone else. Meanwhile Christian started acting like a huge jerk, leading Clare to wonder if she'd made the right choice after all. She was even considering not accepting his rose.
This leads audiences to speculate that Benoit makes a triumphant return to the house and proposes to Clare. Frankly, I think this is precisely what this show needs to stir up some drama. Benoit is extremely handsome and obviously extremely enamored with Clare. There hasn't been a lot of scandal on the show lately. Even when Kevin transferred his affections from Bibiana to Ashley I., Bibiana didn't seem particularly crushed and was instead happy for Ashley.
I think a late-in-the-game return and romantic proposal in a hammed-up French accent is exactly what we all need.
Check out Romper's new video series, Romper's Doula Diaries:
Watch full episodes of Romper's Doula Diaries on Facebook Watch.