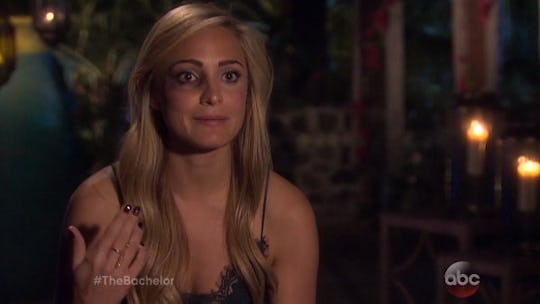 Who Gives Leah A Black Eye On 'The Bachelor'? The Teaser Doesn't Gives Us Hints, But No Answers
ABC's The Bachelor sure knows how to reel a viewer in. In case the drama during the season premiere of Ben Higgins' season wasn't enough to keep you watching this season, the series teased the rest of the season by revealing that one contestant, Leah Block, gets a black eye. And you thought that Lace's alcohol-fueled antics would be the most dramatic thing to happen this season.
But, as much as The Bachelor gives, The Bachelor also holds back. Because it's inevitable, upon seeing the footage of Leah, to wonder exactly how the contestant got the shiner. Especially when Leah says, "I can't believe it! She hit me!" So who is the she?
Well, we don't know quite yet. You think The Bachelor would give everything away the first night? Now, the teaser leads viewers to assume that person is Lace — after all, in the teaser montage for the season ahead, discussion about Lace, and her tendency to constantly pull Ben aside, came right before Leah's admission. (And, clearly, the contestant is a lightening rod when it comes to drama.) But that would be far too easy, isn't it? As easy as it is to judge the contestants after the premiere, we might be best off withholding judgment — not all Bachelor "villains" are as they seem. So before you go blaming Lace, keep in mind there are plenty of other women in the house with reasons to let things get a little too competitive.
And plenty of other creatures as well. Who gave Leah a black eye? Better question might be what. Because my money's on that mini-pony.
Image: ABC