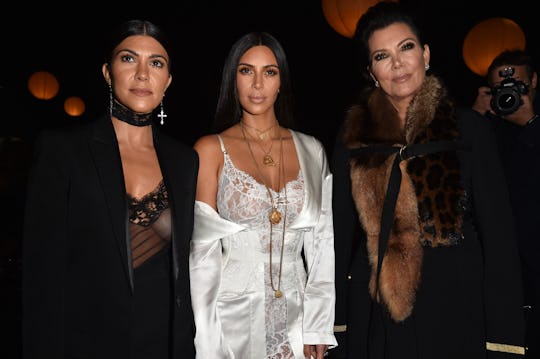 Pascal Le Segretain/Getty Images Entertainment/Getty Images
Who Held Kim Kardashian At Gunpoint? Her Representative Says She's Badly Shaken Up
After a full day of Paris Fashion Week events, who held Kim Kardashian at gunpoint in her hotel room? Details are still emerging, but BBC News reported that a minimum of two people allegedly robbed her. Little is known about the individuals behind the incident, but information released by authorities and those close to the case suggest multiple men were involved in the planning.
Kardashian West's spokesperson shared the following statement with Romper:
Kim Kardashian West was held up at gunpoint inside her Paris hotel room this evening by two armed masked men dressed as police officers. She is badly shaken but physically unharmed.
The incident took place at approximately 2:30 a.m. Central European Time, according to BBC News, and Kardashian West was at a "luxury residence" she'd stayed in before. The French Interior Ministry said that, while two men actually made it to Kardashian West's residence, they weren't the only people involved; CNN reported that five men allegedly got the concierge into handcuffs and made him obtain access to Kardashian West's room. The two men who entered reportedly wore police uniforms and allegedly held Kardashian West at gunpoint before locking her in the bathroom, according to CNN. The men allegedly stole a number of Kardashian West's valuables, including a ring valued at $4.5 million and a jewelry box with contents valued at $5.6 million, according to NBC News. Two phones also went missing from Kardashian West's Paris residence, The New York Times reported.
Kardashian West's husband, musician Kanye West, wasn't in France at the time. West cut off his performance at the Meadows Festival in New York City about 20 minutes earlier than the scheduled end time when he learned what happened; according to Billboard, he said, "I'm sorry, family emergency, I have to stop the show." Kardashian West did have family members with her during the trip to Paris. Sister Kourtney Kardashian and mom Kris Jenner joined her for a Givenchy fashion show Sunday, The New York Times reported; Kris tweeted that daughter Kendall Jenner walked in the Givenchy show. Later, Kardashian West left a Azzedine Alaïa- and Surface-hosted dinner around midnight, according to The New York Times; the robbery occurred just two-and-a-half hours later.
Though Kardashian West stayed quiet on social media following the incident, news of the reported robbery prompted a significant online response. Not all responses were kind. According to TIME, a number of celebrities stood up for Kardashian West. One standout tweet came from the host of The Late Late Show, James Corden:
French officials do not have anyone in custody following the Kardashian West robbery, NBC News New York reported. Though the men involved fled the scene on bicycles, police obtained hotel surveillance footage to help identify the suspects and Paris Mayor Anne Hidalgo said that she expects arrests to be made soon.