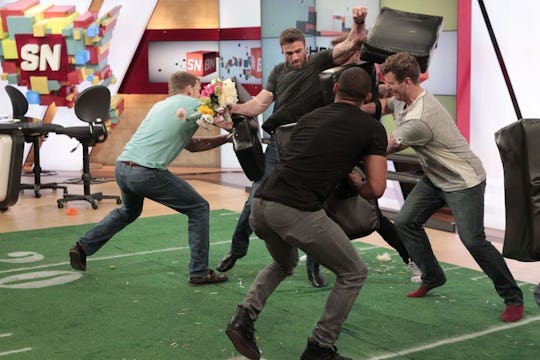 Rick Rowell/ABC
Who Hits James Taylor On 'The Bachelorette'? There's Tension Between Contestants
Promos for The Bachelorette have been action-packed even for a show that lives for drama as much as this one does. In the promo for episodes three and four, there's plenty of conflict spliced in between the shots of cute dates and romantic moments – and some of that conflict is physical. There is serious tension building between the guys that looks like it's finally going to boil over. Resident nice guy musician James Taylor is shown with blood on his face, swooning a little as he presses a tissue to it. It's hard to imagine anyone would have it out for James, but it seems like someone might. Who hits James Taylor on The Bachelorette?
There's really only one possibility, considering most of the guys on the show are getting along – all except for one. Chad hasn't exactly been making friends in his brief time on The Bachelorette, whereas James Taylor has been endearing himself to everyone. The two guys are basically polar opposites: Chad is having trouble going along with the silliness and romance of the show, whereas James is all about it. While they haven't come into direct conflict yet, that looks like it's going to change – or so the editor of the promo wants you to believe.
Aside from his bloody face, James isn't actually present for most of the arguing of the promo. Instead, that seems to be between Chad and Evan, the erectile dysfunction expert with three kids. Evan has taken umbrage to Chad's behavior on the show – his arrogance, his rudeness, and what looks like a short temper. He refers to Chad as "volatile" while expressing discomfort with being around him. The bulk of the promo features their fighting, but it's not just the two of them; Chad is rubbing everyone the wrong way, and apparently everyone is rubbing Chad the wrong way back.
Chad says all the guys are pushing his buttons, and that it's "not a wise decision to poke the Chad bear." This statement is supported by a lot of evidence for a minute long promo: Chad punches a door! He shoves Evan! Someone gets yanked around by their shirt! James Taylor is bleeding! It's mayhem! Chad also asks the guys if they "want to go," i.e. for a brawl outside, and most likely not a pleasant walk where they discuss and resolve their differences.
But where exactly does James fit in? If he's not involved in all of the yelling and shoving, how is he the one that ends up bleeding? It's no surprise that James probably isn't hugely involved because of his pleasant temperament, so perhaps he just gets caught in the crosshairs of someone else's issue. Or maybe the editing is being exceptionally deceptive and James just takes a swing dance kick to the head by accident.
However, if Chad is the one responsible for injuring a relatively well-liked guy then it's going to turn his villain edit up to eleven.