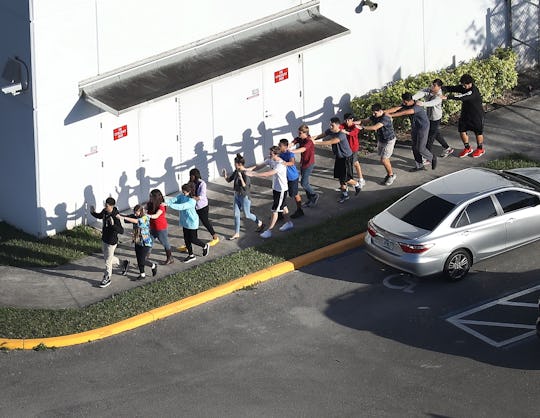 Joe Raedle/Getty Images News/Getty Images
Parkland Coach Aaron Feis Died Shielding Students, & His Heroism Is A Powerful Reminder
An assistant football coach and security guard at Parkland's Marjory Stoneman Douglas High School was among the 17 people shot and killed Wednesday at the deadliest school shooting since 26 lives were claimed at Sandy Hook Elementary School in Connecticut in 2012, according to The Daily Beast. But who is Aaron Feis, the Parkland coach who saved kids' lives on Wednesday? His story is a powerful reminder that, in every terrible tragedy, there are heroes who reminds us of the good in the world.
In a news conference late Wednesday night, Broward County Sheriff Scott Israel referenced the death of a football coach, but did not give a name. But Feis' family was notified around midnight Wednesday or early Thursday morning that his final act of kindness was a fatal one, according to the Daily Beast. He had reportedly leapt in front of his students to shield them from the 19-year-old assailant with an AR-15 rifle, according to South Florida's Sun Sentinel. And he died a hero.
As a student, Feis had played center for the Douglas High School football team and graduated in 1999. In 2002, he returned to the school as a football coach, according to the Sun Sentinel. He lived in Coral Springs and leaves behind his wife, Melissa, and his daughter.
The massacre that took Feis' life was the 18th school shooting of the year, according to TIME. The high school, which is part of the second largest district in Florida and among the sixth largest school districts in the entire country, has more than 3,200 students in the ninth through 12th grades and about 130 teachers whose lives will be changed forever.
Feis's former students and football players took to Facebook in the aftermath of the shooting massacre with prayers, according to The Daily Beast. They'd heard the Broward County Sheriff's announcement that a football coach had died, and they prayed that Feis had survived the injuries he sustained after literally taking bullets for the students. Alas, their prayers went unanswered and, when the school's football team announced on Twitter that he had not survived.
"It is with Great sadness that our Football Family has learned about the death of Aaron Feis," the Douglas football team's Twitter account posted early Thursday morning. "He was our Assistant Football Coach and security guard. He selflessly shielded students from the shooter when he was shot. He died a hero and he will forever be in our hearts and memories."
Social media users took to the internet to share Feis' story.
"Every one is talking about a disturbed kid or arguing about #GunControlNow," writes one Twitter user. "Lets talk about Aaron Feis. He was a football coach at the #floridaschoolshooting He stepped in front students sheilding them with his body. He was shot multiple times and died saving the kids he loved." Another wrote: "Some heroes wear Gatorade towels over their shoulders. Aaron Feis sacrificed his body for his students in the Florida school shooting."
Of course, students were devastated. They shared their condolences on social media, as well.
Feis's coworkers cared a lot about him and are, too, spreading the good word. "Big ol' teddy bear," Willis May, the high school's head football coach told the Sun Sentinel about Feis:
Hardcore — he coached hard. Real good line. He did a great job with the [offensive] line. He took pride with working with those guys. Loyalty — I trusted him. He had my back. He worked hard. Just a good man. Loved his family. Loved his brother — just an excellent family man.
May said he heard from a student that Feis "jumped between her and the shooter to push her out through a door and out of the line of fire," according to Hollywood Life.
Aaron Feis is the definition of an American hero — his story gives people hope in the face of horrible loss.
The FBI requests anyone with information to call 1-800-Call-FBI, the Sun Sentinel reported.
Editor's note: After publication, we discovered this article did not meet our editorial standards. There were portions that did not correctly attribute another source. It has been updated to meet our standards.