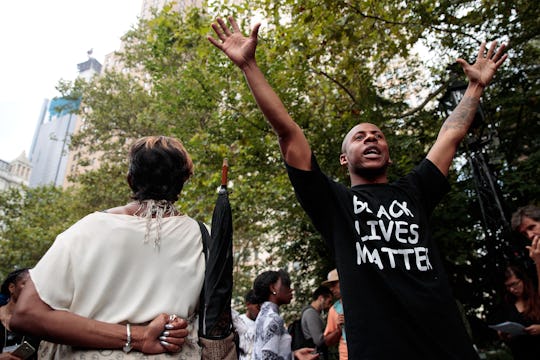 Drew Angerer/Getty Images News/Getty Images
Who Is Abdi Mohamed? The Teen's Shooting By Police Was Controversially Ruled 'Justified'
Back in February, 17-year-old Abdullahi "Abdi" Mohamed was shot multiple times by Salt Lake City police officers. The teen survived the shooting, but was critically wounded and initially hospitalized in a medically induced coma, The Salt Lake Tribune reported. So who is Abdi Mohamed? The Somali refugee teenager, whose family arrived in Salt Lake City for a better life in 2004, has made headlines of late, amid controversy involving several other high-profile police-involved incidents, and on Monday, the police officers' shooting was controversially ruled "justified."
According to police reports, officers were called to the scene at a local homeless shelter on Feb. 27, where they intervened to break up a fight allegedly involving Mohamed, who was, according to law enforcement, reportedly seen attacking someone with metal objects. According to The Tribune, an interview with investigators revealed that one officer had reportedly yelled "Stop, police! Drop the weapon!" Police claimed that Mohamed allegedly did not drop the object in his hand when commanded, the Associated Press reported. Officers Kory Checketts (who issued the initial command to Mohamed) and Jordan Winegar then both fired their weapons, striking Mohamed four times.
But the teen's family and witness accounts have disputed that account. Selam Mohammed, a witness to the shooting, indicated to FOX 13 Salt Lake City in February that the police officers didn't give Mohamed a chance to surrender:
The police said, 'drop it', once, then they shot him four times. We were trying to break it up before the police even came, but the police ran in on foot and pulled their guns out already. They already had them, like, as soon as he was running he was already grabbing for his gun, not even trying to Tase him or anything.
The teen was reportedly holding a broken broom stick prior to the shooting, according to Mohammed's account.
On Monday, Salt Lake County District Attorney Sim Gill announced that the officers' use of force was "justified."
"First, this was a thorough investigation which included speaking with countless witnesses – we invited the FBI to review the body camera footage to see if a federal criminal investigation, or civil rights investigations, were warranted," Gill said during his announcement on Monday, according to FOX 13. "As stated in our published report, the FBI declined to open an investigation based on the fact that this was a justified use of force."
In his announcement, Gill also recognized the officers' body cam footage as "subject of great debate." Indeed, the unreleased body cam footage captured on Feb. 27 has sparked widespread outrage: In May, the ACLU of Utah filed an official request for the release of the footage to confirm the officers' reports.
"The public has a right to know what happened in a critical incident like this one," First Amendment attorney David Reymann said. "Utah's recently-passed body camera legislation makes quite clear that this type of footage should be made public upon request."
According to Salt Lake Tribune's Jessica Miller, who was reporting from Gill's press conference, Gill announced that criminal charges against the officers will not filed. Mohamed, in contrast, was charged in 3rd District Juvenile Court of first-degree felony aggravated robbery and second-degree felony drug possession with intent to distribute. Gill claimed that the assault stemmed from a dispute with Mohamed selling drugs at the shelter, according to Salt Lake Tribune. But Mohamed denied that claim.
"I wasn't doing none of that," the teen reportedly said. Gill will reportedly seek to move the case to adult court.
Mohamed's shooting joins a growing list of disproportionate police violence towards black lives.