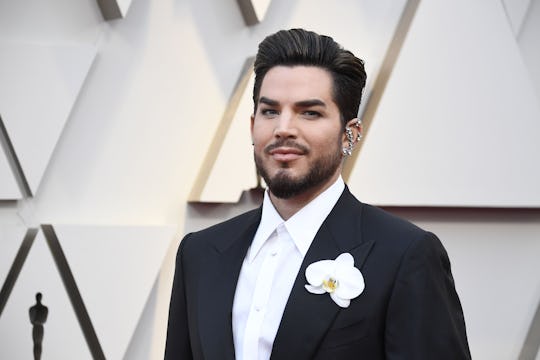 Frazer Harrison/Getty Images Entertainment/Getty Images
'American Idol' Fans Were Happy To See Adam Lambert At The Oscars
It's safe to say many fans were eagerly awaiting Lady Gaga and Bradley Cooper's rendition of "Shallow" at the Oscars on Sunday, Feb. 24. But the actors weren't the only Oscars performers — in fact, a familiar face from American Idol graced the stage. So, who is Adam Lambert? The singer has been a fixture in Hollywood for quite some time now.
Lambert has a big fan base known as the "Glamberts," so it's not too surprising many people were cheering him on before his Oscars performance with Queen. The excitement was understandable given the fact that Lambert hasn't performed at an awards show in a while — the last time I remember is when he took the American Music Awards by storm in November 2009. Some people complained that his performance was too provocative, while others hailed it as an iconic moment.
But Lambert's Oscars performance wasn't the only thing people were talking about — many fans couldn't get enough of his red carpet look. The American Idol alum donned a sharp suit adorned with a flower lapel, while his brows and makeup were on point.
"Gorgeous," one person said about Lambert's look. "Can't wait for @adamlambert and @QueenWillRock to ROCK the #Oscars stage."
Someone else said: "@adamlambert is sooooooooooooooo ROCKING the Oscars red carpet in Tom Ford!"
Lambert's longtime bud from American Idol, Ryan Seacrest, added: "Still remember the day @AdamLambert auditioned for Idol with Bohemian Rhapsody and now he's opening with Queen! Proof that vision boards work."
Of course, the main event wasn't Lambert's fashion choice — it was his performance with the legendary rock band, Queen.
At the start of the show, Lambert and Queen opened up the show with the band's iconic hit, "We Will Rock You," a tune that was followed up with "We Are The Champions."
Lambert's vocals were killer (dude can nail a high note, y'all) and he had the honor of welcoming everyone to the Oscars.
It goes without saying that the singer has come a long way since his first appearance on American Idol in January 2009. Lambert ended the show's eighth season as runner-up, according to Rolling Stone, but he came out on top in the long run.
The performer went on to appear on various television shows like Glee, Pretty Little Liars, and Dancing With the Stars, to name a few series. Lambert also had a small role in Bohemian Rhapsody, the Oscar-nominated film about Queen's lead singer Freddie Mercury.
In addition to Lambert's acting work, he has been a guest judge on reality competition shows like The Voice and The X-Factor.
As for his personal life, Lambert is openly gay and he has been out since before his American Idol days. The singer's journey wasn't always easy, a sentiment he touched on in a May 2018 speech, stating, according to Billboard: "All of a sudden, I was really experiencing real ignorance's for the first time. I did a performance on the American Music Awards where I kissed a guy…I was told 'you did a lot of damage to your career with that…' I thought I'm not apologizing. F—k that."
Clearly, being himself paid off because Lambert can now say he performed at the Oscars. It just goes to show how far one dream can take a person.