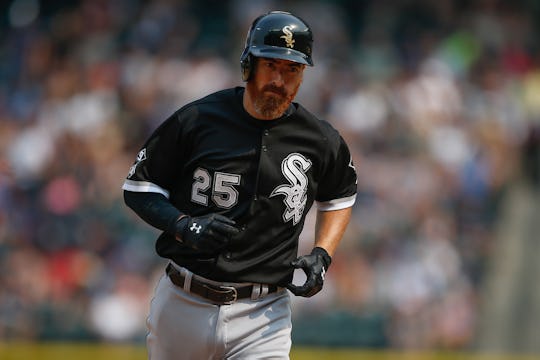 Otto Greule Jr/Getty Images Sport/Getty Images
Who Is Adam LaRoche's Son? Drake's Dad Chose Him Over His Baseball Career
The Chicago White Sox clubhouse might feel a little empty this year. That's because when team Vice President Kenny Williams asked first baseman Adam LaRoche not to bring his son to work with him every day, LaRoche's response was to retire. Sox fans may already be familiar with the teen, but now the rest of the country is wondering who Adam LaRoche's son Drake is, and why he's worth giving up a $13-million contract.
For LaRoche, major league baseball has always been a family affair; in a profile for the Chicago Tribune last year, he shared that his father, Dave, a former pitcher and coach, had often brought him and his brothers to the baseball parks. "[O]ne of the many things I learned from my dad, is that the weeks on, when he was home, he spent as much time with us as possible," he told the paper. "That's part of the motivation in bringing Drake in as much as I do."
So, when Drake's not playing on one of his two Little League teams (he plays both in Chicago and in his native Kansas), he's hanging out in the White Sox clubhouse, where he reportedly has his own locker. The family has an arrangement with Drake's school where they provide him with "weeks worth of homework" to take with him on the road, and Drake said that it's hard to do the work without having any teachers, "but I can get by."
Drake's been accompanying his dad to work since he was 10, back when his father played for the Washington Nationals. In 2013, Adam told the Washington Post, "We're not big on school. I told my wife, 'He's going to learn a lot more useful information in the clubhouse than he will in the classroom.'" Now known as the Sox's "26th man," Drake tries to contribute to the team when he can, shagging balls before games and fetching water and snacks for the players, and, according to ESPN, there's no evidence that any of his dad's teammates had any complaints about the boy basically living in the locker room. But when Williams asked that Drake only spend about half as much time with the team, Adam handed in his resignation.
In addition to hanging out in the locker room, some of the family's other activities, which they're well known for, include hanging out with Willie Robertson of Duck Dynasty and posing for Instagram pics with machine guns, according to Deadspin. Now, Drake will just hang out with other kids, like his sister, Montana (she hasn't been raised at the baseball park because she's a girl).
The move at least proves that LaRoche really does put his kids first, and even money (like, lots of money) won't change that mindset.