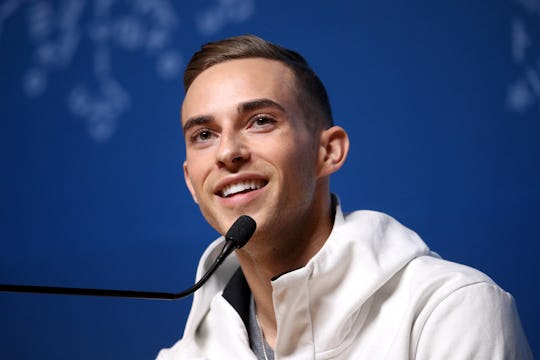 Chris Graythen/Getty Images Sport/Getty Images
Olympic Figure Skater Adam Rippon Is "America's Sweetheart," But Is He Dating Anyone?
The 2018 Winter Olympics have introduced the world to a whole new set of athletes to obsess over. My own personal Olympic obsession came in the form of the first openly gay figure skater who turned down a White House visit on principle alone. The fact that I'm happily married (and probably not his type) hasn't stopped me from wondering if Adam Rippon is dating anyone. While he hasn't dished on his love life just yet, he has made it clear that he has a lot of love to give.
It seems like the entire world is falling in love with Rippon simultaneously, and he has no problem with it. In an interview with USA Today, the infamous "incorrigible flirt" was asked if he is prepared for the steadily growing crowd of adoring fans. "Am I prepared for people to fall in love with me?" he asked. "Are (people) ready for me though?" he said. "I am ready. I've been ready my whole life." Well, I'm ready too and I'm not the only one.
He has also won over America's sweetheart Reese Witherspoon with his dazzling moves on the ice and even more dazzling personality. The two recently engaged in an adorable exchange on Twitter after Witherspoon informed her followers that the skater was the best possible reason to watch the Olympics.
Rippon was his typical charming self when he, of course, accepting the compliment, and responded with a suggestion that the two star in a movie together. "WHEN YOU'RE RIGHT, YOU'RE RIGHT," he said before sending his elevator pitch via tweet:
Also!! Quick movie idea for you: You (played by you) tweet me in the middle of the night at the Olympics and I (played by me) die immediately. Thoughts?
I have a thought: Is someone going to start a GoFundMe to make this movie happen, or should I?
He also become fast friends with Gus Kenworthy, another openly gay Olympian who competes in freestyle skiing. The two have posed for numerous photos together since arriving in PyeongChang, even sharing a kiss between friends. They have also made a statement about the Trump administration by declining the Team U.S.A invitation to visit the White House on account of what Rippon described as "homophobia" in the administration. There's no reason to believe that Kenworthy and Rippon are anything more than friends, but there's no denying that it would make for a love story deserving of a gold medal.
If Rippon is in a committed relationship, he's keeping it to himself for the time being. But there's one love affair that he hasn't kept quiet about, and that is his mistress lady fashion. He modeled his endless collection of fabulous shirts, jackets, and handbags for USA Today before explaining his commitment to remaining 100 percent himself, which is what made the world fall in love with him in the first place:
I was always trying to do things to please other people and I wanted to be that perfect athlete. When I finally let go of that and try to just enjoy myself and do this for me. I like who I am and I want to share my personality with everybody. I want to bring who I am onto the ice. Now I am unabashedly myself I am really representing who I am and being true to myself. And I skating so much better.
While many Olympians do find time to date — with some of them even dating other competitors — it sounds like an awfully full plate to me. Should Rippon decide to bless the world with a meet-cute of his own, I am totally there for it. If not, he's shown that he can clearly do bad all by himself — and I'm there for that, too.
Check out Romper's new video series, Romper's Doula Diaries:
Watch full episodes of Romper's Doula Diaries on Facebook Watch.