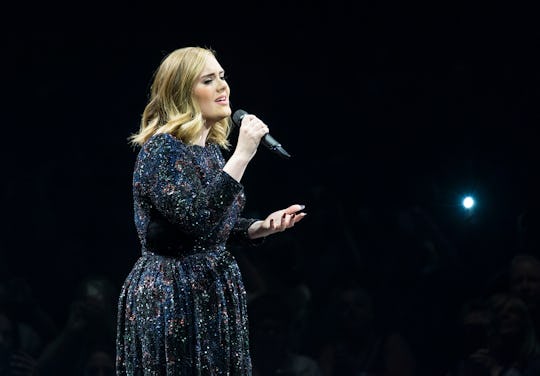 Michel Porro/Getty Images Entertainment/Getty Images
Adele & Her Partner Are Relationship Goals
Adele's music has always felt very personal, infused with sincere emotion and heartbreak. Even if every single song isn't plucked from some event in her real life, they still contain a depth of feeling that lets her fans connect to them so strongly. However, despite the heart-wrenching vibe present in so much of her music, Adele's personal life has been the total opposite for the last few years: with her partner and young son, Adele seems to have found real happiness. But who is Adele married to?
Adele might not actually be married at all; though there are rumors that she got married to her longterm partner Simon Konecki on Christmas of 2016 after dating him since 2011, their marriage is still unconfirmed. Either way, she seems to be happily settled with Konecki and their four year old son, Angelo. "I have no desire to be with anyone in show business, because we all have egos," Adele told Vanity Fair in December 2016. "[Konecki isn't] threatened by any stage of my life that I'm going for, and that's an amazing thing. It's the most serious relationship I've ever been in; we've got a child together and we live together. [...] Simon is already who he is, and I'm still becoming who I'm going to be. He's confident. He's perfect."
At forty-two, Konecki is fourteen years older than Adele. He's been married before, to stylist Clary Fisher, and has a nine year old daughter. Though he was born in New York, he grew up in London after relocating there when he was ten years old. He attended Eton and later went on to become a foreign exchange broker at Lehman Brothers, but eventually changed careers so he could do something more charitable with his life.
Konecki first founded Life Water with friend Lucas White to create eco-friendly bottled water, but nowadays he's the CEO of the charity Drop4Drop, which seeks to bring clean water to people in developing countries. He was introduced to Adele by Ed Sheeran and the rest is history; they've been together ever since.
Konecki even arranged for an especially grand romantic gesture for their fifth anniversary during one of Adele's concerts. During her finale, pink confetti rained down from the ceiling and written on the small pieces of paper were little love notes from Konecki to Adele. It's the kind of thing that sounds like it could inspire a song.