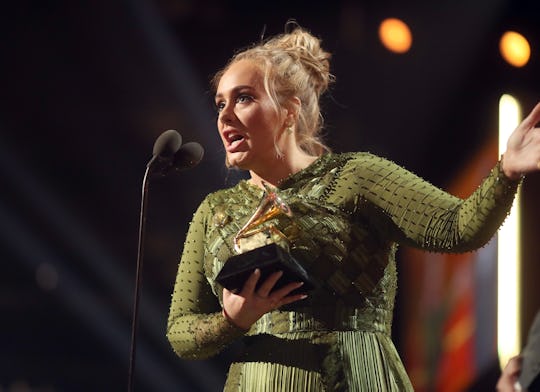 Christopher Polk/Getty Images Entertainment/Getty Images
It's Official: Adele Is Married!
Singer Adele, musical goddess and queen of heart-wrenching ballads, has finally, officially confirmed that she is, in fact, married. While much speculation has been made about Adele's marital status in recent months (many believed she reportedly alluded to the fact during her Grammys acceptance speech), the singer had, up until today, never actually confirmed it. So who is Adele married to?
Simon Konecki probably looks familiar to devoted Adele fans, and there's a reason for that. The two have known each other since 2011, and in fact have a son together, Angelo, 4. However, Adele has always been pretty quiet about her personal life and affairs, only announcing her relationship with Konecki when she became pregnant back in 2012. Since then, the two have remained relatively discreet about their relationship and life behind closed doors. Adele rarely posts any photos of herself and Konecki on any of her social media channels, and keeps baby Angelo out of the spotlight as well.
However, her latest revelation at her concert in Brisbane, Australia, was a more personal side of Adele than we usually see, and showed that she is truly setting fire to the rain with her one and only, Konecki.
During her concert, Adele spoke of her powerful breakup ballad, "Someone Like You," and how she "can't go through with those feelings because I'm married now. I've found my next person."
Weeks ago, Adele and Konecki were the source of rumors online when the singer was spotted wearing a wedding ring, however, no confirmation was given regarding the matter. And despite her speech at the Grammys, this latest concert gives concrete proof that the pair are happily married.
After Adele won Album of the Year at the Grammys last month, her words, "my husband and my son – you're the only reason I do it," sent shockwaves across the world as it seemed that she had finally confirmed her marriage. However, her comments after the ceremony seemed to call into question her earlier excitement, as she referred to Konecki only as her "partner" afterwards.
Clearly, though, the singer can no longer keep quiet about her happy nuptials, and she shouldn't have to. The 28-year-old Grammy winner and the 42-year-old businessman have been seeing each other for years, have a son together, and clearly love each other. They owe no one an explanation. Nevertheless, Adele's comments that, "he's not threatened by any stage of my life that I'm going for, and that's an amazing thing. It's the most serious relationship I've ever been in," show just how content the pair are.
Congratulations, Adele! You deserve every happiness. (And thank you for putting all those pesky rumors to rest.)