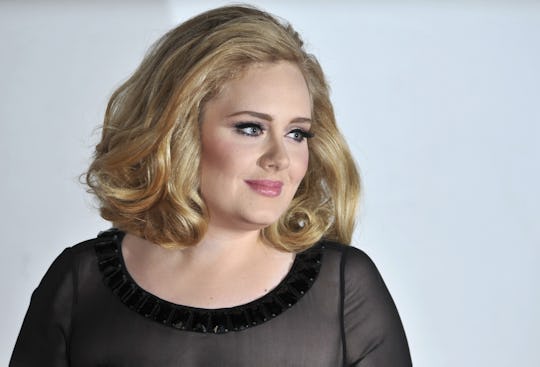 Who Is Adele's "All I Ask" About, & 4 Other Questions '25' Totally Doesn't Answer
It's been four years since Adele's last album, 21, was released — but Adele fans already knew that. In fact, admirers of the soulful singer have been counting the days until her next album. The good news: Adele's 25 is here! And while "Hello" has had listeners and music aficionados questioning its meaning since October, it isn't the album's only track to raise questions. In fact, one of the biggest questions is who is Adele's "All I Ask" about?
Co-wrote with Bruno Mars, "All I Ask" includes some beautiful and painful lyrics, like this:
If this is my last night with you / Hold me like I'm more than just a friend / Give me a memory I can use / Take me by the hand while we do what lovers do / It matters how this ends / Cause what if I never love again?
And this:
No one knows me like you do / And since you're the only one that matters, tell me, who do I run to?
Excuse me for a moment while I grab the tissues. I, uh, have something in my eye. OK, who am I kidding, I'm balling like a baby, but going from the previous track "Million Years Ago" into this was brutal — and I mean that in the most complimentary way possible.
Back to the song. With gut-wrenching and honest lyrics like these, I have to ask: who the heck is "All I Ask" about? Is it about Adele's past love? Her current love? Someone in Bruno's life? Who Adele, who? I want to know more; I need to know more!
And that isn't the only question I found myself asking while listening to the 10 other introspective and reflective tracks on 25. Here are four other questions 25 raises but doesn't answer:
Is "When We Were Young" About Romance Or Friendship?
And a part of me keeps holding on / Just in case it hasn't gone / I guess I still care / Do you still care?
Ah, youth. While I am sure this song will find its way into numerous high school dances this year (prom theme perhaps?), as with "All I Ask," I want to know who it's about. Is there a specific subject, a certain person Adele sings to — and longs for? Is this song as it seems — the lamentation of a high school/college relationship gone awry — or is it about friendships, growing up, or something else entirely?
Who Is The "You" In "Remedy"?
When the world seems so cruel / And your heart makes you feel like a fool / I promise you will see / That I will be, I will be your remedy.
I know, I know, there is a theme here. I keep asking who, but with "Remedy" it's hard not to. Who is the ambiguous "you" Adele addresses? A boyfriend? A friend? Herself? (The opening verse leads me to believe the latter, i.e. that this is a song by Adele, to Adele. And I have to say if you listen to it that way holy hell this is one empowering song.)
Does Adele Feel Fake? And If So, Why?
But my heart is a valley, it's so shallow and man made / I'm scared to death if I let you in that you'll see I'm just a fake / Sometimes I feel lonely in the arms of your touch / But I know that's just me cause nothing ever is enough
This song didn't leave me with a question; it left me with a series of questions. You see, I related all too closely with these lyrics — with feeling fake, with feeling alone — and this song left me open and wounded. I found myself wondering why Adele feels this way? Is it the result of fame? The byproduct of love? Struggles with anxiety and depression?
What Are Adele's Regrets?
I know I'm not the only one / Who regrets the things they've done / Sometimes I just feel it's only me / Who can spend the reflection that they see / I wish I could live a little more / Look up to the sky, not just the floor / I feel like my life is flashing by / And all I can do is watch and cry
Wow. This song left me a weeping mess. It left me questioning myself. And it left me with so many questions: what are Adele's regrets? What is the source of Adele's pain? Who does Adele see when she looks in the mirror? In all honesty doesn't matter, but I sympathized. I empathized. And I cried... a lot.
Images: BEN STANSALL/AFP/Getty Images Entertainment; Giphy (4)