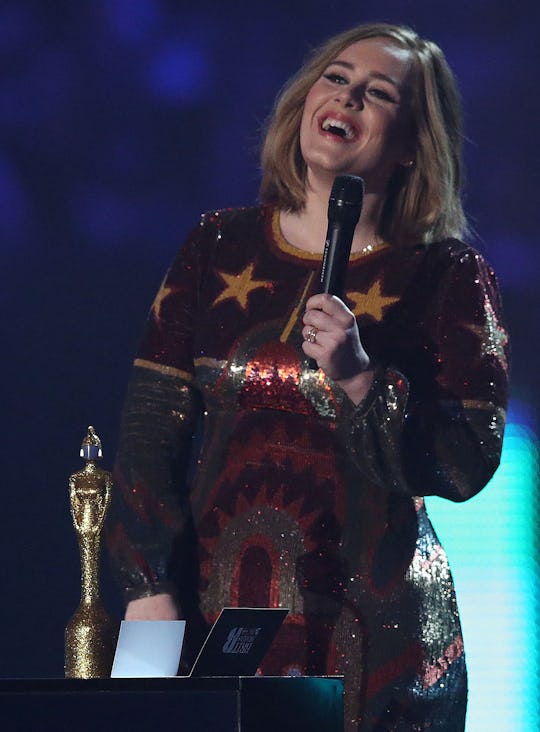 JUSTIN TALLIS/AFP/Getty Images
Who Is Adele's 'Send My Love To Your New Lover' About? It's Clearly A Breakup Song
After her landmark release of 25, Adele went oddly silent. That is, until Monday. Adele posted a tantalizing video on Instagram that shows her in a floor-length, Victorian gown, looking straight into the camera. Then, the screen fades to black and says, "coming soon." In one fell swoop, Adele announced that her next single and video will be "Send My Love (To Your New Lover)." By this time fans know the song, but what's the backstory? Who is "Send My Love To Your New Lover" about?
Though Adele sings the song — and sings it with passion — she wasn't the only brains behind it. Like so many pop albums, 25 was very much a collaboration. The production has an all-star team behind it. According to US Weekly, "Send My Love" was written by Swedish super-team Max Martin and Shellback (Karl Johan Schuster), who earned their stripes writing Taylor Swift's "We Are Never Getting Back Together," "Bad Blood," "I Knew You Were Trouble," Justin Timberlake's new "Can't Stop the Feeling," and many other hits. Apparently Adele reached out to them because she admired their work. During an iHeartRadio interview, Adele said, "I heard 'Trouble' by Taylor Swift and was like, 'WHO wrote that?!'" The rest is Billboard history.
The song isn't a typical Adele ballad. It's more like a pop anthem for getting over a breakup. During that same iHeartRadio interview, she said that though the song is about a sad time in her life, it's ultimately a "happy" and triumphant tune. It draws for her own experience with an ex-boyfriend. When asked about him, she showed just how much she is over him. She said, "I'm in the best place ever. I have no idea where he is now." Well, he's definitely not a Grammy-award winning megastar. That much is certain.
According to Rolling Stone, Adele is going to debut the video for "Send My Love" at the star-studded Billboard Music Awards. Adele will no doubt be honored at that event given her record-breaking album release (25 was No. 1 on the Billboard 200 for 10 straight weeks). But, regardless, she won't be in attendance. She's busy playing sold-out shows across Europe — typical Adele! The only thing fans know about the video, besides the enigmatic teaser, is that it was shot in London and directed by Patrick Daughters. He's worked with a string of incredible musicians, including the Yeah Yeah Yeahs, Feist, Kings of Leon, and Snow Patrol.
The Billboard Music Awards will air on ABC Sunday at 8 p.m. Eastern Time, and Britney Spears, Justin Bieber, Rihanna, Blake Shelton, and Gwen Stefani, among others, will grace the stage, which means that, even without Adele, it should be quite a spectacle.