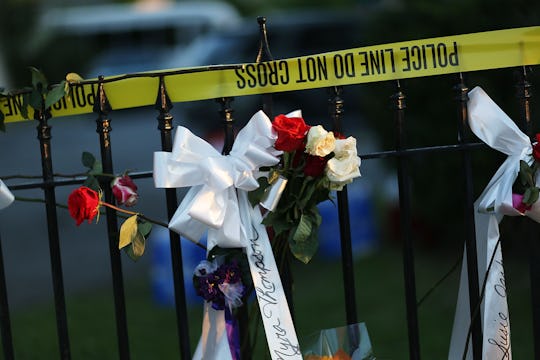 Joe Raedle/Getty Images News/Getty Images
Who Is Akiel Denkins? His Police-Involved Death In NC Sparked A State Investigation
A police officer in Raleigh, North Carolina, shot and killed a man on Monday, sparking a state criminal investigation, CNN reported. Though law enforcement officials had not released the man's name as of Tuesday, a family member told local news outlets there that the man was 24-year-old Akiel Denkins, and that he was unarmed at the time of his death. According to CNN, the state has opened an investigation into who Akiel Denkins is and how he died, including whether the officer's actions were justified.
At a press conference Monday afternoon, Raleigh police chief Cassandra Deck-Brown declined to release details surrounding the shooting, including the victim's name and how many times he was shot, according to local station WRAL. Deck-Brown did say that shortly after noon on Monday, the officer was chasing the victim on foot and attempted to detain him. A gun was found "in close proximity" to the victim's body, Deck-Brown said, but it wasn't clear whether the gun belonged to the victim or if he threatened the officer. The Raleigh Police Department did not immediately respond to Romper's request for comment concerning the legality of the shooting.
Deck-Brown said that Raleigh police would release a full report to city officials with initial findings within five working days, as is customary for investigations into police-involved shootings.
Late Monday afternoon, the police issued a statement identifying the officer as 29-year-old Senior Officer D.C. Twiddy, CNN reported. Twiddy, who has been with the department since 2009, has been placed on administrative duty pending the completion of the state's investigation into the shooting.
Rolanda Byrd, Denkins' mother, told WRAL that her son had outstanding warrants at the time of his death. Local news reported that Denkins had been convicted on three drug offenses and had a warrant for a pending drug charge.
One eyewitness, who asked to remain anonymous, told WRAL-TV that Denkins fled after the officer began questioning him, and jumped over a fence — ignoring the officer's demands to stop. Once Denkins jumped a second, higher fence, the witness said the foot chase turned deadly.
"When they got to the tall fence, the boy jumped the tall fence, but the police couldn't," the woman said. "When the police went to jump over the tall fence, he fell. When he fell, he just started shooting his gun."
Rev. Chris Jones, pastor of Ship of Zion Church told WRAL that the shooting has further damaged the community's view of the police. "He could have been my son. I treated him like my son," Jones said. "I've fed him at my church before. Now, he's lying back there dead,"
Jones added that he believed Denkins' death was unnecessary. "If he ran from you today, you could have arrested him tomorrow. Why did you have to kill him today?"
Denkins was the father of two young boys, ages 2 and 3, CNN reported. He was getting his high school equivalency degree in order to become a carpenter.
Residents of Southeast Raleigh held a rally and vigil in Denkins' honor on Monday night, according to the local ABC affiliate, with several community members calling the incident a "tipping point" in an already-tense relationship between local police and residents. Community members are calling on local officials to equip officers with body cameras and create a civilian review board to mediate the relationship.