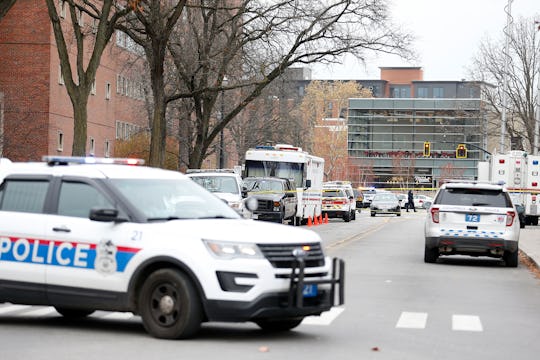 Kirk Irwin/Getty Images News/Getty Images
Who Is Alan Horujko? The Young Officer Emerged As The Hero Of The Ohio State Attack
On Monday, an Ohio State student reportedly crashed his car into a group of people on the Columbus campus, then slashed several of them with a butcher knife. The jarring situation lasted only minutes after a young officer fatally shot the alleged suspect, an 18-year-old student named Abdul Razak Ali Artan, putting an end to the frightening attack that hospitalized nine people. Many are now wondering about the identity of the officer that stepped in and took quick action. So, who is Alan Horujko? The 28-year-old university police officer has emerged as the hero of what could have been a much more tragic situation.
According to ABC Cincinnati affiliate WCPO, Horujko is an Ohio State alumnus. He reportedly graduated with a degree in security and intelligence just a few years back, studying engineering for three years before changing his major. After graduation, Horujko joined the university's police department in January 2015. According to an article from 2015 published in The Lantern, the university's campus newspaper, the Cincinnati native worked extensively with campus safety service while he was a student at Ohio State.
"I just couldn't see myself sitting in a cubicle," Horujko told the newspaper of his decision to change his career path and pursue one in law enforcement. "By working (at Student Safety Services) and seeing what the police do, and what Student Safety does on the campus, the kind of behind-the-scenes stuff really led me to a law enforcement career."
According to NPR, it was around 9:52 a.m. when the emergency dispatch center got a report that a vehicle had struck pedestrians. One minute later, at 9:53 a.m., the university police department called out that shots were fired, most likely the shots fired by Horujko after the suspect allegedly failed to comply with orders to put down his weapon.
Some have pointed out how remarkable it was that first responders got to the scene so quickly. That's because around the same time the attack started, according to WCPO, Horujko was responding to a call of a gas leak on the campus, fortunately putting him in the right place at the right time when he saw the suspect drive into a group of pedestrians.
"It was fortunate that (the gas leak) did happen as it helped the officer be in the right place at the right time," OSU Police Chief Craig Stone told WCPO. "He was able to see this whole thing happen and take immediate action."
"When you think about this timeline, from 9:52 to 9:54, it shows how much practice, how much training, how much expertise and how much coordination took place between campus police and (other agencies)," Ohio Governor John Kasich said a press conference on Monday. "Think about what this tragedy could have meant... and fortunately from what I am understanding is that they are expecting a full recovery."
According to the Springfield News-Sun, Horujko is a former Cub Scout and was a "standout student." Heavy reports that Horujko is engaged to be married next year to a fellow Ohio State graduate.
"He comes from a wonderful family, and they instilled in him some great values. He was fun-loving in high school and very out-going," Jill Wilhelm, the band director at Horujko's high school, Fairfield High School, told the Springfield News-Sun following Monday's attack.
Horujko was certainly in the right place at the right time, but his quick judgement call to end what could have been a deadly situation on the campus is why he is being praised as the hero of the Ohio State attack.