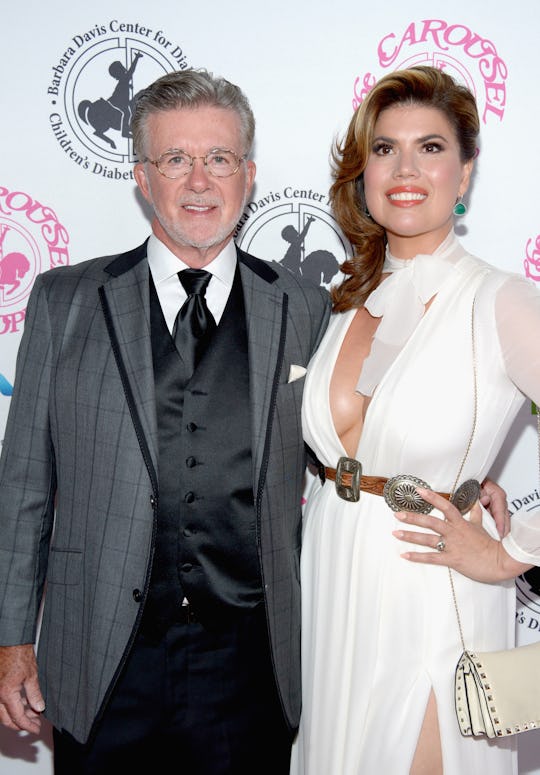 Matt Winkelmeyer/Getty Images Entertainment/Getty Images
Who Is Alan Thicke's Wife? Actress Tanya Callau Worked With Her Husband Prior To His Death
In shocking news Tuesday evening, a publicist for actor Alan Thicke confirmed to multiple media outlets that the Growing Pains star had passed away at the age of 69. Thicke leaves behind wife and actress Tanya Callau, who worked closely with her husband prior to his death. TMZ first broke the news on Tuesday night, reporting that Thicke had been playing hockey with 19-year-old son Carter when he suffered a heart attack and was transported to Providence St. Joseph's Medical Center. He was pronounced dead a short time later, according to the outlet.
Update: In a statement to People on Tuesday, Dec. 21, Callau spoke out about Thicke's death, saying, "It is with gut wrenching sadness and unbelievable grief that I thank everyone from the bottom of my heart for the outpouring of love and support during this unimaginable time. Through tears and smiles our dearest of family and friends came together at our home to celebrate the life of my sweet and devoted husband Alan Thicke. Yesterday, along with my step sons and our combined extended family, we laid my beloved husband, soul mate and the patriarch of our family to rest. We ask that you respect our privacy during this time of profound mourning."
(Representatives for Thicke did not immediately return Romper's request for comment.)
As of 9 p.m. ET, Callau had not responded to the report on her personal social media accounts, though given the suddenness of the situation, her silence was hardly surprising.
Across Twitter, Thicke's co-stars from over the years responded, sending heartfelt condolences. "So sad is the passing of Alan Thicke," Thicke's Fuller House co-star Bob Saget Tweeted late on Tuesday. "Such a good husband, father, brother, and friend. He will be deeply missed. Rest in peace dear Alan."
Fellow Fuller House stars Lori Loughlin and Candace Cameron Bure also responded in kind. "I'm so sad to hear about the passing of Alan Thicke," Loughlin Tweeted. "RIP Alan."
Bure, whose brother Kirk Cameron starred with Thicke in Growing Pains, and who worked with Thicke herself on Fuller House, delivered a deeply personal message on her Instagram account. "I'm sad beyond words that Alan Thicke has passed away," she wrote. "I've known you since I was 8 years old and so glad I had the pleasure of working with you again so recently on Fuller House. You were a part of my family and hockey family. You will be greatly missed. My heart hurts."
Thicke's colleagues also remarked fondly on the couple and their experiences with the two of them. "Had the pleasure of meeting Alan Thicke and his amazing wife Tanya a few years back," singer Demi Lovato Tweeted on Tuesday evening. "My thoughts and prayers are with his family. RIP."
Callau and Thicke had been actively working together on the Canadian-American mockumentary Unusually Thicke, which followed a fictional version of Thicke's own real-life family (which includes sons Brennan Thicke, Carter, and singer-songwriter Robin Thicke) at the time of his death. Despite their 28-year age difference, the two had a healthy, happy marriage and family life — and had even weighed the option of expanding their brood as recently as 2014, according to Thicke himself.
"As we sit here today it's not a completely resolved issue," Thicke told Global Toronto's News at Noon in April that year, of the couple's back and forth conversation about having more children. "Tanya deserves to have [children]. [But] you have to deal with the realities."
Of his own age, Thicke joked, "Does [Tanya] want to be changing two sets of diapers one day?"
On set, the two got along swimmingly with the same sort of realistic humor as well. "[Unusually Thicke is] based on our real lives, but we knew where we were going," Thicke said, remarking on whether the show mirrored the couple's home life exactly. "It's us playing ourselves," Callau added.
On her Twitter timeline, Callau chronicled the couple's real life antics, slyly posting humorous pictures of herself in politically-themed Halloween costumes, videos of the family of the gameshow Family Feud, and retweeting a short clip of the couple answering fan questions for Watch! Magazine.
"What is your dream house renovation?" Thicke asks in the video, posing the fan question to Callau, who smiles wide. "Well, I would love to build a nursery someday," Callau responds, as Thicke gives the camera a joking and stoic look.
Thicke leaves behind a loving partner in Callau, a devoted family in his three sons, and an even bigger and doting extended family in his wide network of co-stars.