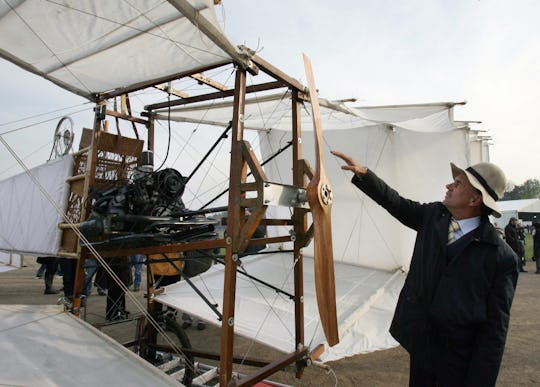 PIERRE VERDY/AFP/Getty Images
Who Is Alberto Santos-Dumont? The Rio Opening Ceremony Remembered The Aviator
The 2016 Rio Olympic Opening Ceremony paid tribute to a man named Alberto Santos-Dumont. But who is Alberto Santos-Dumont? Turns out, Santos-Dumont was an aviator — a famous aviator — and, in fact, Santos-Dumont may be the most infamous aviator to have ever lived. Why? Well, according to Brazilian history, Santos-Dumont was the first individual to ever successfully pilot an airplane. Even before the Americans. Even before the Wright Brothers!
According to Rio 2016, Santos-Dumont was born in Brazil in 1873. However, when Santos-Dumont was a child, he and his family moved to Paris. According to the Olympics official website, it was there — in Paris — that Santos-Dumont developed an interest in flying, after taking his first flight there in a hot air balloon. Santos-Dumont eventually began building balloons himself and earned the Deustch de la Meurthe prize shortly thereafter when he flew a balloon from Parc Saint Cloud to the Eiffel Tower. But it was the flight he made in 1906 which made him infamous and earned him the unofficial moniker "the father of aviation."
You see, according to CNET, Santos-Dumont won a flying competition in France, on Oct. 23, 1906, when his winged aircraft flew approximately 200 feet in the air. And while this flight was three years after the Wright Brothers, Brazilians argue Santos-Dumont's flight was the first real flight because his plane was the first real airplane. (The Wright Brothers used a launching rail, or catapult system, to get their craft off the ground.) In fact, in 2006 physicist Henrique Lins de Barros argued that Santos-Dumont's "aircraft" — the 14-Bis — was the first true airplane flight because it met all of the criteria set forth by the Federation Aéronautique International (FAI) to make it a) a plane and to b) make it an official, record-setting flight:
A) the flight should be done before an official organization, qualified to ratify it; B) the flight should be done in calm weather and over a plain ground, and properly documented; C) the machine should be able to take off from a designated area by its own means with a man on board; D) the machine should carry on board the necessary source of energy; E) the machine should fly in a straight line; F) the machine should make a change of direction (turn and circle); G) the machine should return to the starting point.
Unfortunately, to this day the Wright vs. Santos-Dumont debate remains unresolved. However, regardless of who flew first, one thing is certain: both the Wright brothers and Santos-Dumont were groundbreakers, record-setters, and history-makers.