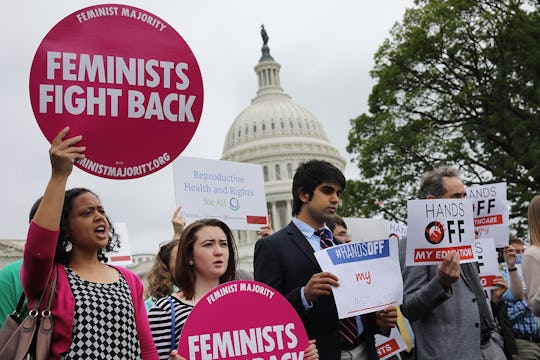 Chip Somodevilla/Getty Images News/Getty Images
Young Mom Lost Her Congressional Primary, But Won't Give Up
For so many across the United States, Nov. 9, 2016 was a dark day. The night before, the world watched in anticipation as the potential for the country's first female president dissolved into just another pipe dream, and the glass ceiling remained intact. But then, days later, a movement started. The Women's March on Washington was organized, and the day after President Trump's inauguration, millions of women and allies came together to show their power and their persistence. And it was there where seeds of empowerment were planted in thousands of women, including Alexis Frank, the 26-year-old Congressional candidate who's making history in South Carolina.
Frank, as The New York Post reports, is "a mother of two, and the biracial daughter of a single mom, living on base at Camp Lejeune in North Carolina with her husband, an active-duty Marine," and decided to run in the special election of South Carolina's 5th District, where a vacancy had emerged with Trump's nomination of Mick Mulvaney to the Office of Management and Budget. While Frank was close to becoming the youngest Congresswoman in history, her loss in the May 2 primary election halted that dream — for now.
"Now in 2018, Let's Get In Formation!" she wrote after her loss, signaling another run for office in the near future, and paving the way for the resistance to keep moving forward.
Frank hasn't officially signaled her intentions to run for Congress in 2018, but her social media presence and tone during her concession speaks makes it clear that she isn't giving up. "I ran for my children, for my daughter," she told the crowd gathered in a banquet room on election night. "They deserve more."
Frank's campaign was focused on honesty, on virtues and on real people. Her opponent in the primary, who ran away with about 60 percent more votes than she received, is a former Goldman Sachs executive. A 66-year old white man, up against a biracial, progressive, female veteran, 40 years his junior. The results aren't exactly surprising, but they aren't too disappointing, either.
The fact remains that Frank was able to secure over 4,000 votes in a district that's been predominately Republican in recent years. Frank's progress is a sign that, while election night might not have gone the way many wanted it to, all hope is not lost. Since November, over 12,000 progressive women have contacted EMILY's List — an organization dedicated to electing democratic women — "seeking information about how to run for office," according to Essence, and the movement shows no signs of slowing down.
Frank might not have won this round, but her fighting spirit and dedication to what's right have already made history. And in 2018, she may be making it again.