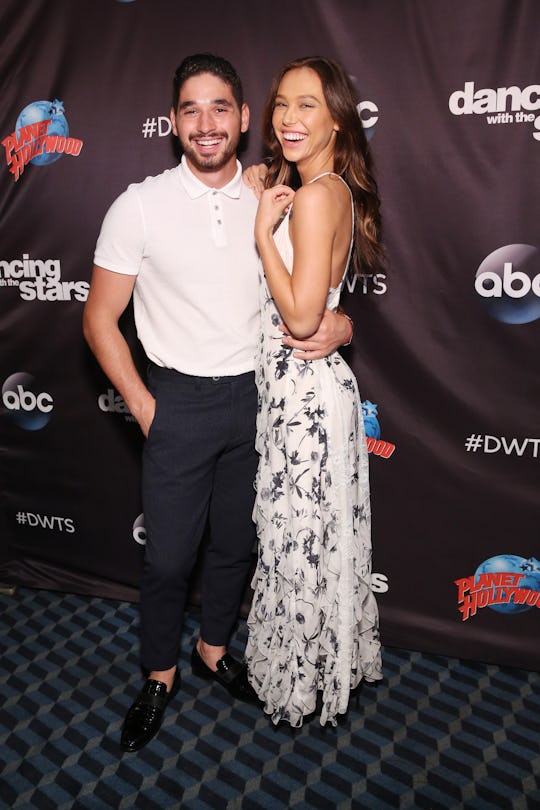 Robin Marchant/Getty Images Entertainment/Getty Images
This 'DWTS' Contestant Got Her Start In The Coolest Way
Dancing With the Stars began Season 27 Monday night with a mixed bag of emotions. Whether you tune in for your favorite celebrities or just for their pro partners, DWTS has something for everyone: tears, laughter, and sometimes confusion. Tuesday night's eliminations left 13 couples in danger of going home. Lucky for Alexis Ren and her partner, Alan Bersten, they'll live to dance another week. But if you, like a lot of viewers, have no idea who some of this season's celebrity contestants are, you're probably wondering "who is Alexis Ren?" Here's your cheat sheet for next week.
According to Us Weekly, Ren told her new dance parter during their first meeting she's "an influencer on social media." This is a modest way of saying she has 12.8 million followers on Instagram and 1.6 million on Twitter, but who's counting? That's not all. At the age of 13, Santa Monica-born Ren started her modeling career at Brandy Melville, appearing in ad campaigns for Calvin Klein and Tommy Hilfiger, as well as ads for Final Fantasy XV: A New Empire. At only 21 years old, she's already been the August 2017 Maxim cover girl, the March 2018 cover model for Maxim's Mexico version, and a 2018 Sports Illustrated Swimsuit Issue rookie model. While this is all impressive, there's more.
After an adorable parlor-themed jive routine on Monday's show that garnered the pair rave reviews from the judges, Good Housekeeping reports that some fans aren't convinced Alexis should be a contestant on the show at all, given her background — as a classically trained ballerina. That's right, friends. Not only is the DWTS dancer great at wielding social media to her advantage, she confirmed in an interview with Sports Illustrated Swimsuit she was good; really good. She almost auditioned to join a ballet company but went down the modeling path instead.
That said, having dance experience shouldn't dictate who will take home the Mirrorball trophy — and it hasn't in the past. A lot of contestants have a little (or a lot) of dance experience and sometimes they're voted off long before the finale. If anything, maybe Alexis' social media followers will push her into the lead.
As a model who didn't gain notoriety in the traditional catwalk kind-of-way, Alexis burst onto the scene by posting envy-worthy travel photos on social media alongside ex-boyfriend, Jay Alvarrez (Bonds swimwear model). With beachy vibes and adventures that dreams are made of, Rey and Alvarrez, though no longer together, made a career out of their stylish vacation snaps. The rest is history.
In a recent YouTube video — sans special lighting and glamour in exchange for honesty — Alexis revealed even more about herself. She explains that she was a ballet dancer for 10 years and trained six to seven hours a day. With the different styles taught on DWTS, she may have a slight advantage with flexibility, but she still has to learn every nuanced step like everyone else. In the video, she also said one of her biggest fears is staying the same — and understandably so. Who doesn't want to evolve? Her mother passed in 2013 and is said to be one of the more traumatic events in her life, which probably helped shape the woman she is today.
No matter who you hope to see make it to the DWTS finale, Alexis' clout proves people want to see her go places — classical ballet training and all. Now that you're more familiar with the jive-dancing social media model, maybe you'll feel more inclined to learn the Jive, or any other dance Alexis and her partner perform. Or, at least maybe you'll think about it.