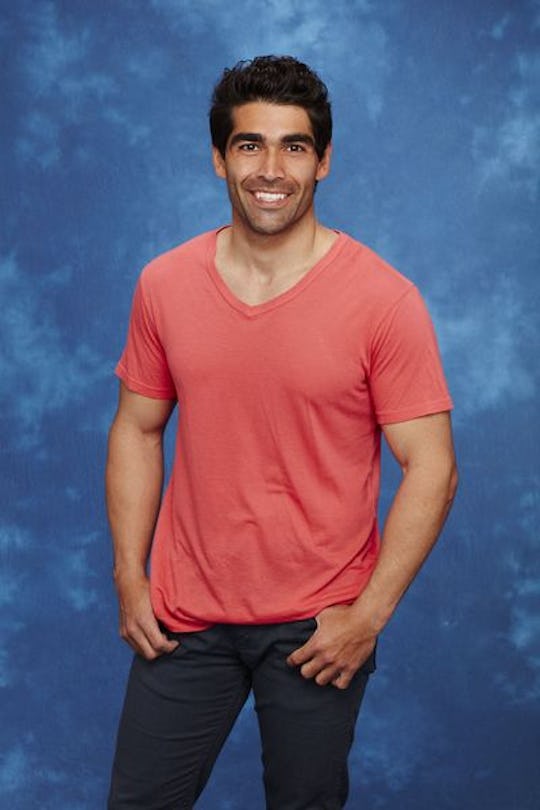 Craig Sjodin/ABC
Who Is Ali On 'The Bachelorette'? He Has Some Unexpected Talents
With the premiere of The Bachelorette getting closer and closer, fans are probably getting ever more curious about each of the guys trying to win JoJo Fletcher's heart. There's a lot of them to get through, but a couple of contestants set themselves apart early on. Either they do something to call attention to themselves in their intro (like JoJo herself prancing in with a unicorn mask) or their personalities just happen to read really well on camera. In his first appearance, Ali comes off pretty charming, which could mean good things for his chances going forward. But who is Ali on The Bachelorette?
Despite living in an age of social media, not everyone has all their information out there to peruse (very unfair of them). Ali is one of those people; there isn't necessarily a lot to go off of online, but what can be found paints a pretty nice picture. Ali's Bachelorette bio is pretty slim on the incriminating details, too. He's 27 and he's a bartender; he hates bugs and plays up the romance angle in his answers, which just means he has good sense and knows what show he's going to be on. But what else is there to the guy who's going to be gracing our television screens soon?
Though Ali says he's a bartender, it seems he's an actor too, with a handful of minor credits to his name. He's appeared in small roles in movies, television, and commercials, mostly non-speaking, and nothing major enough to make it to big screens. He's had some pretty impressive acting training, apparently with a flair for comedy, having taken courses at the Groundlings, UCB, and Studio 4. His resume also lists fluent Farsi as a special skill, and being bilingual never hurts.
Perhaps most impressively, depending on what impresses you, is that Ali is a classically trained pianist. His Instagram is full of short videos of him playing everything from Chopin to a cover of Britney Spears' "Everytime." He's got some serious skills at the piano, which are sure to help him if he ever gets to show them off during the show. Ali is also a surfer, and shots of him at the beach dominate any non-piano posts on his Instagram.
Ali is cute, he's got talent, and he's got some pretty cool hobbies – if personality and chemistry fall in line, then there's no telling how well Ali might do in the competition.