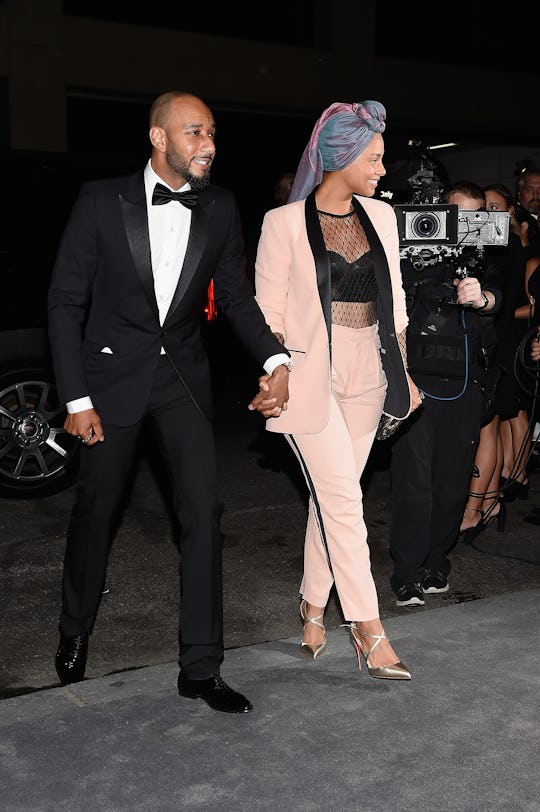 Frazer Harrison/Getty Images Entertainment/Getty Images
What You Need To Know About Alicia Keys' Love Life
Alicia Keys is a hugely successful musician, but that isn't the only role she's taken on: in addition to her accomplishments as a singer and a pianist, Keys is a songwriter, an occasional actress, the one-time subject of an iconic (and bizarre) impression on RuPaul's Drag Race, and a wife and mother. Keys has two children with her husband, whom she's been married to for going on seven years. But just in case you're not as familiar with Keys' personal life as you are her professional one, you might be asking: who is Alicia Keys married to?
Keys has been married to Swizz Beatz, whose given name is Kasseem Dean, since 2010, but they've known each other for a lot longer than that. They first met when they were teenagers; Keys was sixteen and Beatz was seventeen, and they didn't hit it off at first. In fact, she told Marie Claire that she thought he was annoying and ostentatious. "Swizz will have the fastest car, the biggest jewelry, the loudest jacket," she said. "Everything with him is really over the top. I used to see him and think, 'He is so annoying.'"
Eventually they started working together professionally and realized that they actually got along very well. However, even though they'd worked past their initial differences, the start of their relationship was still subject to a lot of public scrutiny. That was because when they started dating in 2008, Beatz was still married to his first wife, singer Mashonda Tifrere.
After divorcing Tifrere, Beatz got engaged to Keys. They were soon expecting their first child together, marrying in July 2010 before welcoming their son Egypt Daoud Dean just a few months later in October. Their second child, Genesis Ali Dean, was born in December 2014. While Beatz' two children with Keys are her first, they're his fourth and fifth, respectively; he has one child with his first wife, his son Kasseem, and is also father to Prince and Nicole from two other previous relationships.
Now, however, any past relationship drama seems to be behind them. Beatz, Keys, and Tifrere even worked together on a song called "Blended Family (What You Do For Love)" that celebrated their own blended family. They wanted to show their commitment to working things out for their children's sake. Tifrere called it "a true testament of love, growth, and healing."
It seems like after a long and often complicated relationship, Keys and Beatz have found real happiness with each other.