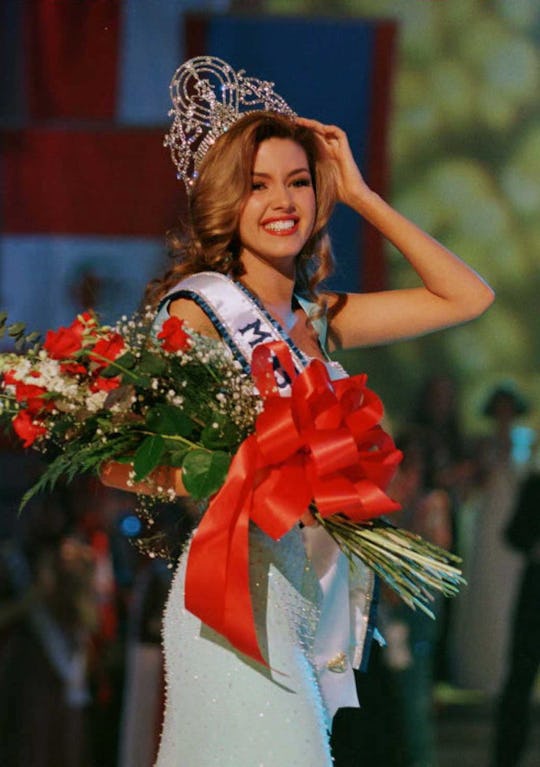 AFP/AFP/Getty Images
Who Is Alicia Machado? The Former Miss Universe Has Been Back In The Spotlight This Week
There was a lot to take away from the first presidential debate on Monday night — like the fact that Donald Trump might not pay his federal taxes and that Hillary Clinton laughs when she is under pressure. But there was one name spoken during the debate that has been incredibly talked about this past week — Alicia Machado — a person Clinton brought up in regards to Trump's words towards women. But this week, many have wondered who is Alicia Machado, the woman wrapped up in the latest "he said, she said" campaign arguing.
Machado is a former Miss Universe winner. Machado was just 19-years-old when she won the pageant in 1996 after winning the title of Miss Venezuela. Machado was born in Venezuela and according to a 1997 profile of Machado in The Washington Post, saw Miss Universe as a way to "open doors." According to The Washington Post, Machado wanted to be an actress from a young age and hoped to get her start in telenovelas once her reign as Miss Universe 1996 was over. But during her time as Miss Universe, Machado faced some controversy — she was accused of putting on "nearly 60 pounds" according to a 1997 CNN report, and almost lost her title because of it. According to The Washington Post, Machado claimed she gained 19 pounds. However, despite the controversy surrounding her "weight gain," Machado was still able to keep her title. This is where the alleged "Miss Piggy" and "Miss Housekeeping" comments from Donald Trump came from — as Trump was the executive producer of the Miss Universe pageant during Machado's win.
Since winning the title of Miss Universe, Machado has gone on to accomplish quite a bit in the 20 years since winning the title. She accomplished her goals of being an actress by starring in mainly Spanish speaking television shows. According to Billboard, Machado is also a singer — Machado released two albums with Universal and one independently released record in 2013.
But Machado's career since Miss Universe has not gone without controversy. In 2005, Machado took a dip into reality TV, starring in the Spanish reality show La Granja which according to Extra, is similar to the reality show Big Brother. According to The New York Times, it was on this show that Machado was reportedly shown engaging in "risqué behavior." Machado also faced controversy in 1998 where according to the Los Angeles Times, Machado was "accused of being an accomplice to an attempted murder." However, a judge reportedly said there was insufficient evidence to arrest her for the alleged crime. Machado's representatives did not respond to a request for comment. On Tuesday, Machado gave CNN a very dignified statement about her past and recent accusations: "I have my past. Of course, everybody has a past. And I'm not a saint girl. But that's not the point now."
Recently, Machado has gone on to become a United States citizen, speak out against Trump's comments about her, and endorse Hillary Clinton. According to the The Washington Post, Machado is also the mother of an American citizen daughter. Machado has been using her time in the spotlight this past week to make one thing clear — she was not pleased with the way Donald Trump treated her at the beginning of her career and does not think he is suited for President of the United States 20 years later.