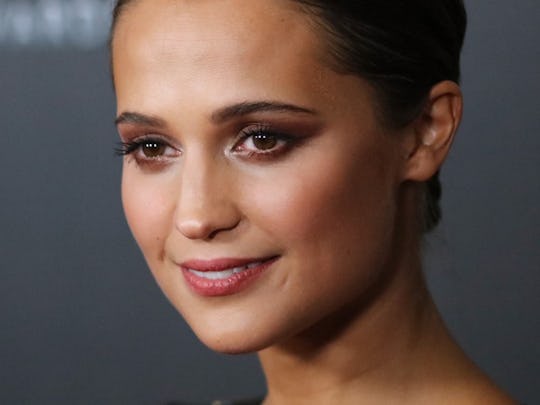 Who is Alicia Vikander? The Swedish Actress Has Recently Gained International Attention, Two Golden Globe Nominations
The 2016 Golden Globe nominations were announced on Thursday morning, and Swedish actress Alicia Vikander was nominated for two awards: Best Actress in a Motion Picture — Drama for The Danish Girl; and Best Supporting Actress in a Motion Picture for Ex Machina. So who is this woman who came out of nowhere and took 2015 by storm? Does she have the best agent ever, or what? Turns out she's actually been around for a while.
Vikander's been acting since she was a teenager, starring in short films and TV series in Sweden. It was her role as Kitty in Anna Karenina in 2012 that first put her on the U.S.'s radar. She appeared in four movies in 2015, although they weren't all successful; in addition to The Danish Girl and Ex Machina, Vikander was also in the underwhelming Guy Ritchie adaptation of The Man From U.N.C.L.E. with Henry Cavill and Armie Hammer, and she had a supporting role in the Weinstein's flop Burnt, a dramedy about a washed-up chef starring Bradley Cooper and Sienna Miller.
So what's next for Hollywood's newest star? Next year, we can look forward to seeing her in Tulip Fever, alongside the weirdest cast I've ever heard of: Dame Judi Dench, Glee's Matthew Morrison, Christoph Waltz, model Cara Delevingne, and Prince Harry's ex, Cressida Bonas. Honestly, who cares what it's about; I just want to see all those people on once screen.
Vikander will also star in The Light Between Oceans with Michael Fassbender and Rachel Weisz in 2016. The film follows a lighthouse keeper and his wife, who find a baby washed ashore in a rowboat, and raise it as their own. OK, sure.
But her biggest paycheck, I'm guessing, will come from the next movie in the Bourne series opposite Matt Damon (yes, he's back, and Jeremy Renner, who replaced Damon for one Bourne movie, is out). The movie is currently filming.
Vikander is also the early favorite to replace Rooney Mara in The Girl With the Dragon Tattoo series, although there is no official word. It's safe to say that no matter what type of movies you're into, you'll probably be seeing a lot of Alicia Vikander soon.
Image: Mark Davis/Getty Images Entertainment