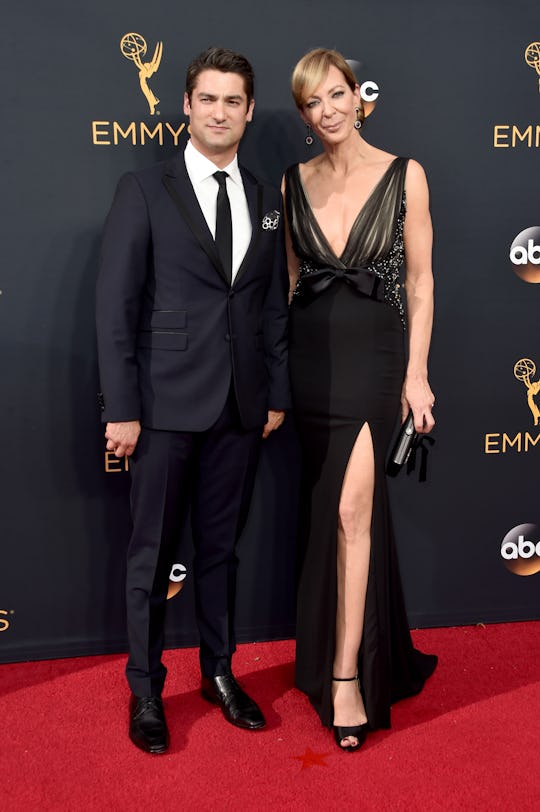 Alberto E. Rodriguez/Getty Images Entertainment/Getty Images
Here's What Fans Should Know About Who Allison Janney Is Dating
While her hilarious character in the hit sitcom Mom might be a bit of a mess, there's nothing messy about Allison Janney. And as she makes her appearance at Sunday night's Golden Globes awards, everyone is wondering the same thing: who is Allison Janney dating? The award-winning actress has been in the spotlight because of her boyfriend before for an unnecessary reason.
Here's the thing — Janney is a strong, smart, successful 58-year-old woman, and she's rumored to be dating a strong, smart, successful 37-year-old man named Philip Joncas, according to E! News. And while age is certainly just a number for adults, and the same conversations certainly wouldn't be happening if the gender roles were reversed. Headlines like "Allison Janney Shows Off Hunky 36-Year-Old Boyfriend at Sundance" have popped up in the past and yes, it's an unnecessary detail to focus on.
And now that Janney is expected to walk the Golden Globes red carpet with her beau, it's likely that people will start the same conversations again. But Joncas is also accomplished in his own right and seems to be a sweet and supportive partner to Janney. And that should be a topic of conversation, so allow me to give you some deets. Because, yes, it's true, she's still rumored to be dating Joncas, according to Us Weekly, and the two even sparked engagement rumors at the Emmy Awards in September, despite Joncas' absence.
So, now that it's been (mostly) established that Janney is dating Joncas, who exactly is he? Well, he's certainly worked hard, just like his successful partner.
After Janney and Joncas first appeared together at the 2015 Emmy Awards, the internet practically went into a frenzy by trying to uncover who he was. Fortunately, Google is a thing that exists, and finding things out about Janney's boyfriend is fairly simple.
For example, E! News reported that he is a successful production manager who has actually worked with Janney before. Specifically, Joncas "has worked on everything from the Food Network — for shows like Chef Hunter and Extreme Chef — to the History Channel with several feature films in between," according to E! News. But that's not all. "In fact, he worked with Janney while collaborating on The Way Way Back in 2012," the outlet reported. However, just because they worked together in 2012, it doesn't mean that's when they started dating.
It seems as though their romance officially started in 2015. According to E! News, "The two were photographed together on the red carpet at the Minions premiere on June 27, 2015."
And so now, more than two years later, the two seem to be in a great place. Considering how they look so smitten at all of their red carpet appearances, the couple appears to be totally in love.
The don't only do red carpets together, either. According to Us Weekly, Janney actually credits Joncas for helping her stay active. "I've been doing the Pilates, and I have three dogs that I hike with and a boyfriend who loves to work out so that helps," she said, according to the magazine.
But even though the two had everyone wondering if an engagement was on the way back in September when Janney was spotted wearing a diamond ring on that finger, she assured a reporter that nothing like that would be happening anytime soon, according to the Daily Mail. After Janney admitted that she had landed a total stud — telling E! News, "He's pretty handsome" — she also revealed that no one should be waiting for any wedding bells to start ringing. "I don't believe in that institution," she told E! News, simply.
But really, the status of Janney's relationship is nobody's business except her own. And that's not what the Golden Globes are about, are they? No, the awards show is about honoring all the great work in film and television this past year. And that includes Janney, who is nominated for the Best Supporting Actress in a Motion Picture award for her role in I, Tanya. And that's totally worth celebrating.
Check out Romper's new video series, Romper's Doula Diaries:
Watch full episodes of Romper's Doula Diaries on Facebook Watch.