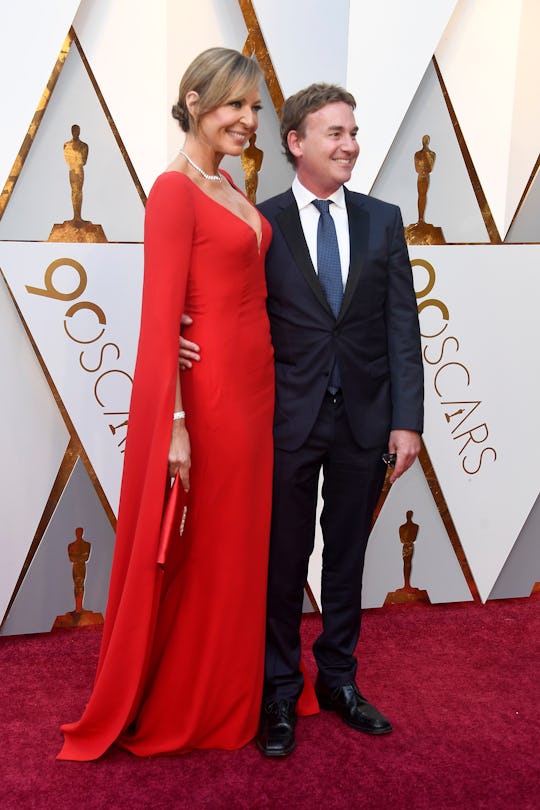 Frazer Harrison/Getty Images Entertainment/Getty Images
Allison Janney's 2018 Oscars Date Is A *Very* Important Man In Her Life
Since first-time Oscar nominee (yes, first time) Allison Janney has been dating Philip Joncas for a few years now, people were wondering if she'd bring him to the ceremony as her plus one. So who is Allison Janney's date at the 2018 Oscars? According to her red carpet interview with Ryan Seacrest, she came with an important man in her life, but not Joncas.
In her interview with Seacrest, Janney said that she came with her good friend Steven Rogers, the screenwriter of I, Tonya, the film for which Janney is nominated for her first ever Oscar, in the best actress in a supporting role category. This is such a sweet gesture on her part, especially considering the fact that she's said in interviews that he wrote the part specifically for her. So it looks like if she wins the award she attributes at least some of that to him. "I am so thrilled to be recognized for the role of LaVona in I, Tonya! My wonderfully talented friend, Steven Rogers, wrote the part for me, which makes it so much sweeter," Janney said in the LA Times. I gotta say, if I was up for an Oscar based on a role my buddy wrote just for me, I would totally bring him along as my date.
In the movie, Janney plays Harding's physically and psychologically abusive mother, LaVona Golden, who, in interviews, Rogers says he wasn't able to locate. Tonya Harding herself doesn't know where her mother is, or even if she's alive or dead. But Rogers was still able to create a visceral character that Janney beautifully and disturbingly brought to life. And it makes sense, since the part was written specifically for her. In an interview with Newsweek, Rogers said:
I'd written for her before, and she never got to play the parts. It was this not-very-funny joke between us... So I attached her to the role even before she read the script or agreed to do it. Her involvement was a condition of sale... no one plays a mess as well as Allison.
Obviously, that is all too true. And it's amazing to think that for as long as Janney has been working in Hollywood that this is the first time she's ever gotten an Oscars nomination. Maybe if any of those other roles that Rogers had written for Janney had come through this wouldn't be the first time.
Also interesting to note is that Rogers made her involvement a condition of selling the script — as in, he wouldn't sell it unless she got the part of LaVona. Obviously, this was the right call. The film did get made and Janney blew everyone away with her performance as the unsavory mother and, perhaps more important, a complicated woman. Hopefully this means that the world in general will be graced with more Allison Janney in movies in the future, and female roles in which the character isn't one-dimensional.
Because we are talking about the red carpet here, it should be noted that Janney basically looked like the fire emoji come to life in her stunning bright red Reem Acra gown with some dramatic sleeves and subtle sparkling jewelry. The look is simple and chic, but still packs quite a punch, making Janney look like the Thespian Queen we now all know that she is.
Janney is widely predicted to be the winner in her category, up against Mary J. Blige, Lesley Manville, Laurie Metcalf, and Octavia Spencer. And if I was to hazard a guess myself, I'd say the award belongs to her, though all of the nominees were incredible. This could turn out to be a very big night for her.
Check out Romper's new video series, Romper's Doula Diaries:
Watch full episodes of Romper's Doula Diaries on Facebook Watch.