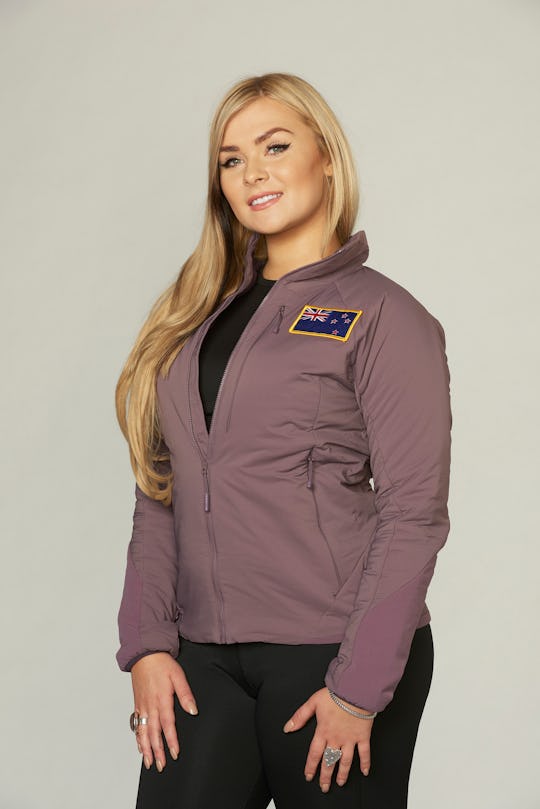 ABC
Ally From 'The Bachelor Winter Games' Has A Very Interesting Tattoo
The Bachelor Winter Games will not only pit U.S. Bachelor alums against each other, but those from all over the world — like Ally Thompson, all the way from New Zealand. But who is Ally on The Bachelor Winter Games? This Bachelor New Zealand star isn't the only New Zealander to be featured on the show. Ally and Lily McManus, who both competed on Season 3 of The Bachelor New Zealand, will be cast members. Not only that, but controversial Season 2 Bachelor New Zealand lead Jordan Mauger will fly stateside to compete as well (and what's suspect is that he's the only contestant to not have promotional photos). But who is Ally specifically?
According to her Bachelor New Zealand bio, Ally was 23-years-old at the time the season aired back in 2017, and is originally from Worcester, England. She moved to New Zealand when she was 19 and describes herself as "hilariously awkward." She's a certified yoga instructor and owns a cosmetic tattooing business. Ally said of her hidden talents, "I can twerk, do the splits… and I have a sloth tattoo on my butt!" Ally, along with Lily, were competing for Zac Franich's heart. Zac was a then-28-year-old lifeguard and "spirit kayaker" who ended up picking contestant Viarni Bright.
Unfortunately, it seems that quick Bachelor breakups aren't unique to Americans. Zac and Viarni parted ways around five months after the finale aired. Zac announced it on Instagram, with a photo of the two of them. His caption read, "We've had plenty of laughs and have shared some pretty special memories together in that time." Zac continued, "However... in life, some things just aren't meant to be... Recently we both decided to continue our relationship just as friends. We'll always share a lot of mutual love and respect, but felt we just weren't quite right for each other."
Well, that's a bummer, but he's certainly not the first Bachelor to break off an engagement (and certainly won't be the last). Ally ended up in ninth place on the show, so she wasn't Zac's top choice but she did last longer than most. While on the show, Ally said she would tattoo Zac. She showed off her sloth tattoo during one episode, and said she got it because she doesn't take herself too seriously. "I'm all up for a good laugh and not taking yourself too seriously so I think the sloth is a good embodiment of that," she said in an interview with NZ outlet Stuff. Ally. However, said she knew Zac had a stronger romantic connection with other contestants. "I felt a connection with him, I think it was more so that the connection was a lot stronger with other girls," she said. "If I could go back I would try and get more time with him so I could open up a bit more maybe."
At the time, she was rooting for eventual runner-up Lily, whom will also be on The Bachelor Winter Games. "She is who I've got my money on," Ally told Stuff. "She is so funny and confident in herself, she backs herself fully." What a strange world it is that now not only are Ally and Lily together again, but they're traveling around the world to do it and play winter games as well! Apparently, both Lily and Jordan spent some time together recently in New York. I wonder where Ally was, and if Lily and Jordan have already been hitting off. Maybe the three will have internal New Zealander drama on the show... knowing The Bachelor, I'd say anything's possible. Regardless, I'm excited to see Ally and the others compete.
Check out Romper's new video series, Romper's Doula Diaries:
Watch full episodes of Romper's Doula Diaries on Facebook Watch.