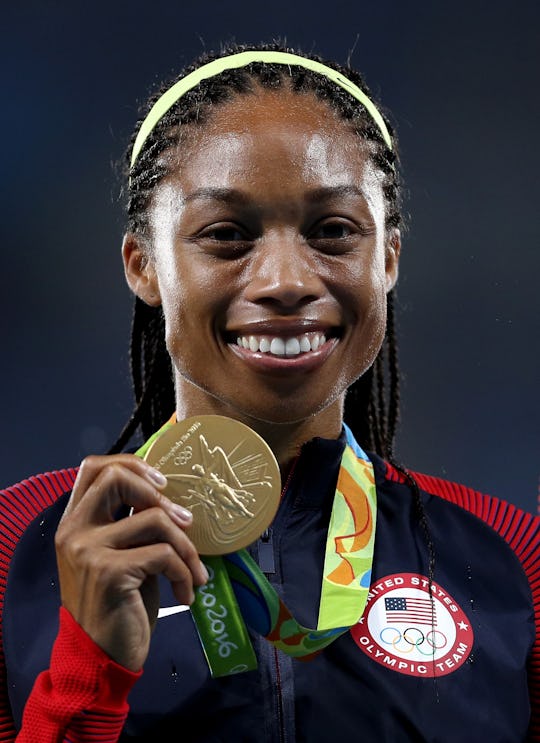 Patrick Smith/Getty Images Sport/Getty Images
Who Is Allyson Felix? She's Won More Gold Medals Than Any Other Female Track & Field Star
Allyson Felix crushed the record books in Rio by winning more gold medals than any other female runner in Olympic history. Running the anchor in the 4-by-400-meter race, the women from team USA were able to win a gold medal, earning Felix her sixth gold medal and helping her break the record. In Rio, Felix also won gold in the 4-by-100-meter race and came in second place to secure a silver medal in the women's individual 400 meters. Who is Allyson Felix? The sprinting phenom has been on the Olympic stage since the Athens Games.
The world was first introduced to Felix in 2004, in the Athens Games, when at just 18 years old, she won the silver medal in the individual 200-meter, getting beaten by Jamaica's Veronica Campbell-Brown, according to NBC Olympics. She came in second again in the 2008 Beijing Games to Campbel-Brown in the 200-meter. But it was Felix's breakout performance in London in 2012 that ensured her place in the history books. During the 2012 Olympics, Felix not only won the gold medal in the 200m, she also won the 4-by-100, and 4-by-400 relays, putting her on par with American track and field legend Florence Griffith Joyner, who was the last woman to win three golds during a single Olympic Games in 1988. And following her performance in Rio, when it comes to total gold medals, Felix stands alone at the top of the list, with more than any other women's track athlete.
"I can look back on the things that I've accomplished and really be proud and really grateful for what track and field has brought to my life," Felix said in Rio, according to The Huffington Post.
In addition to her heavy duty Olympics hardware, Felix was able to earn a college degree from the University of Southern California, in her hometown of Los Angeles, despite deciding to compete professionally before college. Most athletes decide to do one or the other, Felix, clearly not lacking ambition, took both roles on, according to NBC Olympics.
According to USA Track and Field, Felix didn't even start running until her freshman year of high school, and teammates called her "chicken legs" because of her long gams. But she eventually has the last laugh.
Felix is also a member of President Obama's Council on Fitness, Sports and Nutrition, NBC Olympics reported. She also lends her name and expertise to First Lady Michelle Obama's Let's Move campaign to encourage kids to get more exercise and eat healthier foods.
But there's another side of Felix off the track that wasn't on display in Rio. According to USA Track and Field, Felix isn't just passionate about running, she also loves the world of fashion and was able to attend both New York and London's fashion weeks in 2012. And when it comes time for Felix to hit the track, there's one fashion-forward superstar she can always turn to. Just before race time, Felix cranks up "I'm a Diva" by Beyoncé, according to NBC Olympics.