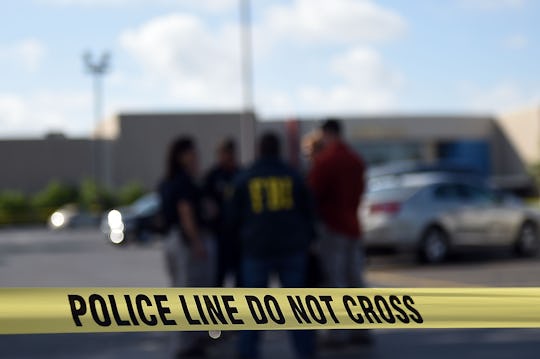 Stacy Revere/Getty Images News/Getty Images
Who Is Alton Sterling? His Death Has Led To Protests In Baton Rouge
Louisiana father of five Alton Sterling was shot and killed Tuesday during an altercation with police outside of a convenience store in Baton Rouge. Who is Alton Sterling? Graphic footage of the shooting has been circulating online since the incident, according to NBC News, and in it, Sterling can allegedly be seen being pinned down by police before being shot. The footage has sparked outrage in Baton Rouge and throughout the country, leading to protests and calls for probes and inquiries into the use of deadly force by police.
In the video, reportedly filmed by a witness on a cell phone, officers can be heard shouting, "get on the ground, get on the ground!" before allegedly pinning down a man in a red t-shirt. One officer then appears to yell, "he's got a gun!" before another officer pulls out his own gun. Shouting can be heard, and then what sounds like gun shots, although the camera quickly cuts away, according to NBC News. In the background witnesses can allegedly be heard saying, "oh my God," "They shot him?" and "They killed this boy."
According to CNN, the Baton Rouge Police Department said they responded to an anonymous 911 call early Tuesday in which the caller "reported a man threatening him with a gun." In a post on their Facebook page, the Baton Rouge Police Department wrote,
Baton Rouge Police are investigating an officer involved shooting that occurred around 12:35am this morning at 2112 North Foster Dr, Triple S Food Mart. Uniformed officers responded to a disturbance call from a complainant who stated that a black male who was selling music cd's and wearing a red shirt threatened him with a gun.
When police arrived, Sterling was in the parking lot of the Triple S Food Mart, where, according to CNN, he regularly stood to sell CDs and DVDs. The owner of the store, Abdullah Muflahi, spoke to CNN about the incident, explaining that he had known Sterling for six years, and gave him permission to sell items in front of his store. Muflahi told CNN that he saw officers slam Sterling on a car, and that they told him not to move. "He was asking them what he did wrong," Muflahi said.
According to Muflahi, officers used a stun gun on Sterling before he was shot, and two officers got on top of him to pin him down. After Sterling was shot, Muflahi told CNN that one of the officers pulled a gun from Sterling's pocket. He also said that, while he heard police say that they'd been called to the store after receiving a call that Sterling had pulled a gun on someone, Muflahi wasn't aware of any confrontation or incident between Sterling and anyone else that would have led to the police being called:
Just five minutes before, [Sterling] walked into the store getting something to drink, joking around, [and we were] calling each other names.
Although Sterling had a gun on him, Muflahi told The Advocate that "his hand was nowhere [near] his pocket," and that he wasn't actually holding a weapon. Only after Sterling was dead did the officer retrieve the gun from his pocket. "[The officers] were really aggressive with him from the start," Muflahi said. Sterling was pronounced dead at the scene.
Following Sterling's death, Sterling's friends and family met outside of the convenience store later that evening to protest the shooting. According to The Advocate, the crowd grew to more than 100 people, many of which carried signs and shouted, "Black lives matter" and "Hands up, don't shoot."
Sandra Sterling, Alton's aunt who raised him after his mother died, spoke to The Washington Post following his death, and called for justice for her nephew. She noted that when a white boy was fatally shot by Louisiana police back on November, two officers were ultimately charged with murder.
All I want is justice for my child. I want the same treatment y'all are giving that person in [Marksville, Louisiana] that killed that little white baby. I want that same kind of justice.
But Sandra Sterling is not the only one calling for a thorough and fair investigation. Baton Rouge NAACP president Michael McClanahan said in a news conference Wednesday that Baton Rouge police chief Carl Dabadie Jr. should resign.
What I'm calling for today is that the chief law enforcement officer to fire the police chief. He must step down. We cannot have anybody who allows this type of action to take place.
Sandra Sterling told the Post that while it "hurts her to see" the video that has made the rounds on the internet and news outlets, she's glad that it exists, so that people can see what really happened, and that Sterling wasn't a bad man. Sandra said, "[before the video], they had already prosecuted him. Now their attitude has changed."
According to The Advocate, Sterling had a troubled past, and had previously been convicted of a number of crimes, including aggravated battery, simple criminal damage to property and unauthorized entry, and domestic abuse battery. In 2000, Sterling was also convicted of one count of carnal knowledge of a juvenile, and had to register as a sex offender, and in 2009, he was sentenced to five years in prison for possessing marijuana with the intent to distribute and illegally carrying a weapon with a controlled dangerous substance. At the time of his death, Sterling had been living at the Living Waters Outreach Ministries, a Christian transitional living center and shelter. (None of these previous convictions serve as a justification for his death, nor do they show that he was committing any illegal activity prior to being shot. Additionally, committing a crime doesn't warrant being shot.)
But those who knew Sterling have said that he was a good person, who wasn't aggressive or violent, and described him as someone who'd made mistakes in the past, but had owned up to them and was starting over. Calvin Wilson, who lived at the center with Sterling told the The Advocate, "Whatever [Alton] cooked, he cooked enough for everybody." Another resident, David Solomon said, "I never saw him coming in here with a weapon, and I never saw him drunk. He wasn't a bad person."
Sandra Sterling's son, Elliot, told The Washington Post that Sterling didn't have an easy life, but that he did his best to make it through.
He didn't have no mama, no daddy. He wasn't stable at all. He lived day to day based on what he made. He couldn't make it in a regular job, but he could make it selling CDs. He could converse with everybody.
Elliot also explained that Sterling may have recently begun carrying a gun for protection — something store owner Mulfahi confirmed. He told The Advocate that Sterling had started carrying a gun after one of his friends had been mugged.
But Elliot told The Washington Post that, even with the gun in his pocket, Alton wasn't a threat to police.
He had his hands up when the officer tackled him. Even if he did have a gun [in his pocket], he couldn't get it out with them holding him down like that.
According to CNN, Louisiana Gov. John Bel Edwards has said that the U.S. Justice Department's civil rights division will be investigating Sterling's death, along with the U.S. attorney's office, the FBI, and state police. Edwards told reporters he watched the video of the shooting, and said that, "[it] is disturbing to say the least."