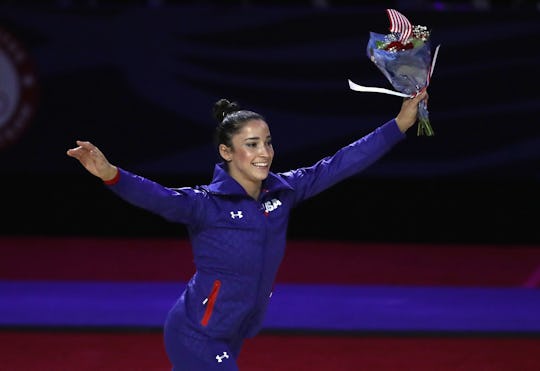 Ronald Martinez/Getty Images Sport/Getty Images
Who Is Aly Raisman Dating? Rumors Are Mixed, But She Has A Full Circle Of Friends
The Olympic Games are coming up next month in Brazil, so, naturally, it's time for everyone to get obsessed with gymnastics once again. This year, team member Aly Raisman is dating someone so there will be even more good gossip to watch for in the stands along in addition to the exciting antics happening down on the mats. Raisman is from Massachusetts and the guy she's been linked with goes to the same high school, Needham High, as the gymnast. According to the site Player's Wives, Jamie McGill is the lucky guy in question and he even spelled out "prom" on the football field in twinkly lights to ask Raisman to attend with him.
That's some pretty cute stuff. But according to some sources, Raisman isn't technically dating Jamie... which sort of makes sense — because who has time for romance when you're busy training for a gold medal? There will be time for happily ever afters and boys once the Fierce Five scoop up more wins in Brazil.
After a long road of injuries and a whole lot of fame, Raisman should be ready to get back on the mat and win in Brazil. After 2012's London games, where she and her teammates took home the first U.S. team gold medal in gymnastics since 1996, Raisman injured herself and was out of the gymnastics game for 31 months.
Raisman wasn't completely down and out during that time though: She finished fourth on Dancing With The Stars and has appeared on various magazine covers and endorsements since then. She's a little celeb — but she's also still an athlete. On the competition side of things, Raisman came in fifth at the U.S. Secret Classic and third at the P&G Championships.
Now, following a solid performance at the women's olympic trials over the weekend, Raisman is on her way to Rio. Along with Gabby Douglass, Raisman is only one of two remaining members of the Fierce Five, since McKayla Maroney, Kyla Ross, and Jordyn Wieber have all since retired from gymnastics.
It's sort of a shame because that original crew was just too cute, and they seemed to be great friends in real life, too. During the London Olympics, Raisman accidentally tweeted that the girls were going with the U.S. men's gymnastics team to a club and that they were "so nervous" (presumably from their coach finding out), before immediately deleting it and tweeting that she was happy to be tucked into bed. Yea, right, Aly. Just think of all of the fun the girls could have had in Brazil.
So far, though, it looks like Raisman is staying focused on the prize, and there's no doubt she'll still have a great time with the new team members. No boys, no late nights at a club needed. (At least that we know of — she could be hiding a boyfriend somewhere, but so far she's doing a good job at it.)