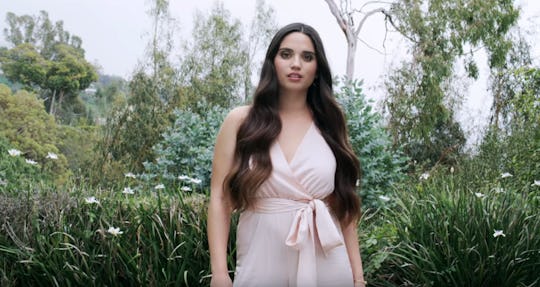 MTV/Youtube
Here's Everything You Need To Know About Alyssa On 'Pretty Little Mamas'
Pretty Little Mamas is MTV's latest reality series, and it centers around five 20-something moms who are living it up in the posh areas of San Diego. While they all juggle busy lives and little kids, there is one mom, Alyssa, who (on the surface) seems to be thriving professionally and personally. Being a young mom isn't always easy, so fans are wondering, who is Alyssa on Pretty Little Mamas, and how is she managing to make things work?
Alyssa is a 25-year-old nursing school graduate, and according to Us Weekly, she came on the show to encourage other moms to follow their dreams. She has a great relationship with her son Kayden's father Brandon, who she calls the "the man of my dreams and my best friend." While most things in her life are flowing smoothly, Alyssa's life is thrown into chaos when she has to care for her mother, who's health is failing.
Sadly, an Instagram post from Alyssa implies that her mother may have passed away last year. She posted a picture for her mom's birthday with the caption "Happy birthday mommy. Missing you everyday my sweet mother angel. We love you forever."
Most of Alyssa's life seems to be about family. She has posted plenty of photos with Kayden and Brandon, as well as pics of her mom, dad, and siblings. In a special post for Kayden's fourth birthday, Alyssa wrote that being a parent was the "best thing" to ever happen to her, and that her son was her "greatest joy" and source of happiness.
You can also tell that Alyssa is proud of finishing nursing school, and in one Instagram post following her graduation, she gushed how "fulfilling and humbling" it felt to accomplish her dreams. And it looks like nursing runs in the family. She also commemorated her grandmother's graduation from nursing school, posting a collage of their nursing school ceremonies side-by-side. "I followed my Grandma's footsteps in becoming a Registered Nurse," she captioned the photos.
In other exciting news, Alyssa and Brandon are officially engaged. From the looks of it, the two are planning to get married sometime this fall, and Alyssa just posted a series of pictures from her bridal shower earlier this month. Two of her cast mates — Cheyenne and Nicole — were in attendance, along with many of her other friends and family.
She also seems to have a pretty active social life, and recently posted a red carpet picture of her Pretty Little Mamas crew from the MTV Video Music Awards in New York City. More of her family and social life will be explored on the show, and it will be interesting to see how she manages to balance everything so effortlessly.
It looks like Pretty Little Mamas will show how Alyssa handles caring for her mom and her son, while maintaining her relationships with the rest of her mom friends. And if the previews are any indication, it doesn't always go super smoothly.
Pretty Little Mamas premieres on Thursday, August 30 at 9 p.m. ET on MTV.