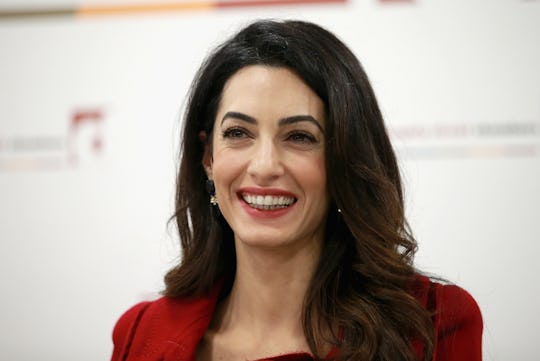 Chris Jackson/Getty Images Entertainment/Getty Images
Amal Clooney's Doctor Is Likely The Best In The Biz
In case you haven't heard, George and Amal Clooney have twins on the way, and the two little ones are expected to make their big debut into the world any day now. Since the actor and famed international human rights lawyer confirmed the news back in February, their fans have been on baby watch times two — and speculating about the birth plans of the celebrity jet setters. We know that Amal Clooney plans to give birth in London; We know that when she does, she'll welcome a boy and a girl. But the specifics, of course, remain rightly under lock and key. So, who Amal Clooney's doctor is will likely endure as a mystery for the ages — or at least evade the pages of the gossip mags and websites.
George Clooney dropped a big hint that the babies' arrival was imminent when he explained in a video message why he had skipped Sunday's Aurora Prize for Awaking Humanity event in Yerevan, Armenia, which he usually co-chairs. "I really would have been there, but if I came there and my wife had twins while I was there, I could never come home," the 56-year-old actor said, according to USA Today. It may have been something of a revelation for the couple's excited fanbase, but surely not for the team of medical professionals caring for Amal... whoever they are.
We'll probably never know exactly who Amal Clooney's doctor is (surely the créme de la créme, though), but a recent E! News report provided some insight as to which other professionals have been and will be involved in her babies' early lives. The couple — who plan to raise the kids in the United Kingdom after continuing to travel like crazy before the twins need to start school — reportedly will forgo both a live-in or full-time nanny in favor of a night-nurse to help to establish a sleep schedule. And they consulted the London-based designer Ilse Crawford, who intends to "support and enhance human behavior and actions in everyday life," when they began planning the nursery, the outlet reported.
So, let's not get too invested in the nitty gritty of Amal Clooney's birthing experience. I, for one, am going to hope that it all goes smoothly for her, and then immediately look forward to the moment when the public will see those first photos of the baby boy and baby girl.